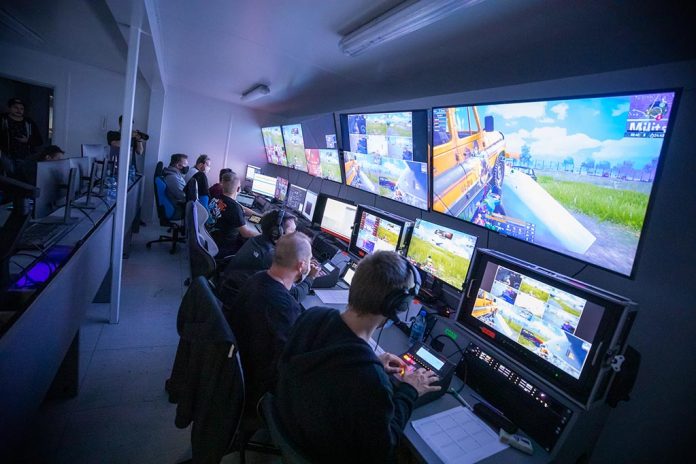 Blackmagic Design have announced that esports specialist, ESL, has enhanced its production, tournament and studio complex, relying on multiple ATEM Constellation switchers and Universal Videohub for content production.
Located in Katowice, Poland, the world class facility incorporates four new control rooms and three multipurpose halls, including ESL's existing arena space, with video equipment delivered by WAMM Video Solutions. Head of engineering, Krzysztof Pawlus, explains that flexibility was the key element when designing the production workflow and control infrastructure.
"We produce a huge variety of live events, including ESL branded formats and white label content for other tournaments or events. With that in mind, the entire workflow is reconfigurable to meet those needs and demands," he explained. "The entire facility is fiber connected. Each interconnected control room has a 288×288 router with 24 fiber in and out, as well as a bank of SDI cards for converting PC desktop signals to SDI. Essentially, we can distribute any incoming source to anywhere in the facility, depending on the production's requirements."
Featuring greenscreen virtual production capabilities, the halls are equipped to host a wide range of events, including space able to accommodate up to 64 PUBG mobile players. As with many other live event producers, ESL has had to adapt to incorporating multiple remote sources.
"Recently most of the talent has been remote, and we also have to ensure the production teams continue to stay safe. We've also made sure the studio infrastructure can bring in external sources alongside signals from the studio floor, without any latency issues," Krzysztof explained. "It's imperative that our streams are accurate and put our audience at the heart of the action."
Content is vision mixed on a variety of ATEM switchers installed throughout the complex. The largest control room has been furnished with an ATEM Constellation 8K switcher, which has been deployed across several high profile events, including the Gamers without Borders charity tournament, where dual language programs were delivered simultaneously. All productions are delivered in 1080p 59.94 and streamed to Twitch and YouTube or via live video cloud to other platforms, as clients require.
The new studio facilities will allow ESL to expand its range of events, and enable the team to innovate further in its content production.
"Availability of Blackmagic's SDK allows us a high level of workflow customisation, while the ability to automate complex processes through custom macros is a real advantage and helps us to diversify our streams," Krzysztof concluded. "We've already been able to develop some very clever and efficient solutions to ensure our content remains at the pinnacle of esports production, and I'm sure there are many possibilities we've still to explore."