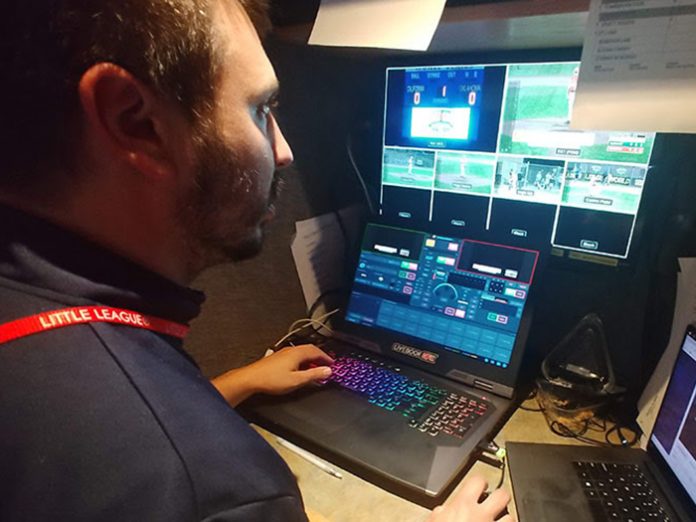 As ESPN ramps up their unprecedented coverage of the Little League World Series (LLWS) by broadcasting every game from the first round to the finals, the well-known sports media outlet is using seven LIVEBOOK GFX NDI systems from AJT Systems, a division of Daktronics (NASDAQ-DAKT), to provide the signature ESPN graphics and branding with an ultra-efficient workflow. Among ABC, ESPN and ESPN+, 200 LLWS baseball and softball games will be streamed to the masses.
"This LIVEBOOK GFX system enables us to broadcast more LLWS games than ever before thanks to its streamlined ESPN graphics package deployment, ease of use, portability – and all without sacrificing quality," said Matt McCandlish, producer-director at ESPN.
AJT deployed the systems across the multiple LLWS event sites and provided their industry-leading live event remote support to ensure each production ran seamlessly. The company's growing national network of LIVEBOOK GFX graphics operators are providing coverage for the geographically wide-spread event sites.
"We provide graphics systems for ESPN productions at every type of event from High School sports to Division I NCAA sports to national broadcasts; it's a large part of what do," said Ron Linares, manager of the AJT Systems division at Daktronics. "Stos Hall, coordinating producer at ESPN, came to us to supply systems for the LLWS as part of ESPN's first effort to stream all rounds of the overall event. This posed several challenges such as tight timelines and diverse event locations. Now, with AJT Systems as part of Daktronics, we are able to scale up quickly to deliver for these types of events."
With short deadlines, operator crews came up to speed on the system quickly and delivered on all ESPN branding and advanced production elements.
"We had a mix of highly-skilled veteran and first-time LIVEBOOK GFX operators, but by the second game, you couldn't tell them apart," noted Yanier Figueras, creative director at the AJT Systems division at Daktronics. "Having to also relocate some of the systems to multiple venues across the country, broadcasting around 90 games per week, it meant that the systems had to be ready to use within hours, sometimes within a few minutes, between matches. And this is where we excel. With a couple of clicks, the entire bug and insert graphics package transforms to support the new teams, roster and statistical information."
"We were able to quickly deliver systems tailored to this event with the required graphics package, all preloaded and ready for use," added Ron. "Working with Stos and his great team at ESPN was seamless. I think this really validates the production model we have championed now for several years. We are looking forward to bringing our efficient solution to more broadcasters as they look to produce more leading-edge content that was previously not possible due to the cost of production."
The LIVEBOOK GFX provides ESPN unparalleled ease of use, compact form factor and powerful dual channels with the capability to produce an entire production's graphics needs from a single platform.
ESPN is using the LIVEBOOK GFX for softball regionals at five locations: Northeast and MidAtlantic in Bristol, Connecticut; Southwest in Waco, Texas; Midwest and Great Lakes in Fishers, Indiana; West and Northwest in San Bern, California; and Southeast in Warner Robins, Georgia. They are also being used for Junior League Baseball in Taylor, Michigan; Junior League Softball in Kirkland, Washington; Intermediate League Baseball in Livermore, California; Senior League Baseball in Easley, South Carolina; and Senior League Softball in Sussex, Delaware.
For an up-close look at the LIVEBOOK GFX product, AJT Systems will be at IBC in Amsterdam at Booth A22 on Sept. 13-17, NADC in Maryland on Dec. 13-17, and the SVG Summit in New York on Dec. 16-17.