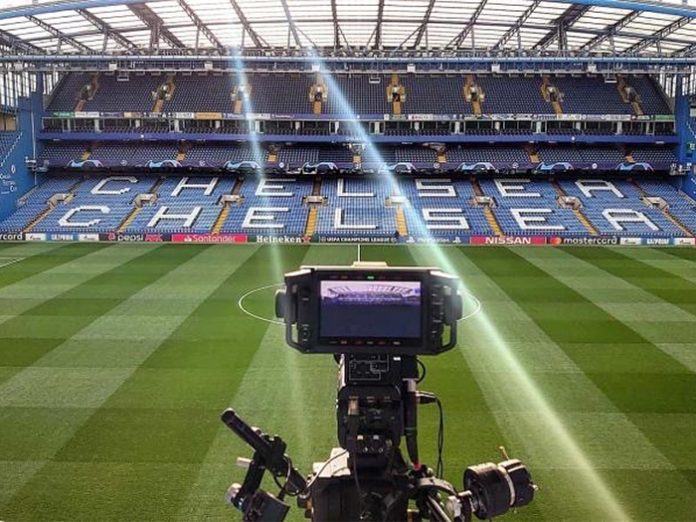 Euro Media Group (EMG), a leading global provider of broadcast services and media solutions for live sports, entertainment and events and Sony Professional have been delivering since August 2020 seamless HDR workflow for sports broadcasting, including football.
The end-to-end HDR workflow is the culmination of a close collaboration to establish a workflow that is the most efficient possible, operating within existing infrastructures and designed primarily for Live broadcast operations.
Broadcasters have been exploring HDR live to deliver a more immersive and "real" image feel to viewers for a few years. However, unlike the transition from HD to 4K, the process of migrating from SDR to HDR is extremely complex, because of amongst other considerations, the need to convert effectively not only Frame rate but also Colour Gamut, Quantization, Resolution and Dynamic Range, and this, from image capture to transmission.
To develop a live HDR workflow that works from end-to-end and delivers on image quality, EMG and Sony worked together to create a solution based around Sony's SR Live workflow. Integrating the Sony HDC-3500 cameras, the HDRC-4000 HDR Processor and BVM-HX310 reference monitors, the set-up uses existing SDR workflow & operational practices as a basis. The collaboration also covered a phase of training to upskill EMG's technical staff, through remote training modules delivered from Sony's facilities in Pinewood Studios to EMG's Parisian office in the summer of 2020.
Canal+ can now deploy HDR at any sporting event within their schedule and began broadcasting live sport to HDR viewers in August 2020 and in particular their football program. EMG was commissioned by UEFA to supply the host broadcast production of the UEFA Super Cup in Budapest with their next generation UHD/HDR truck Nova 103 delivering images of the highest quality. The Nova 103 truck will be part of the large fleet of UDH/HDR trucks which EMG will operate during the UEFA Euro 2021.
Gaël Tanguy, CTO at EMG France: "The brief from our client was very much about providing viewers with a new HDR experience, while keeping legacy SDR customers with the best result, through a single operation. Working with Sony and Canal+ on HDR workflows has allowed us all to think strategically rather than just concentrating on one part of the supply chain. The HDR workflow solution is now in use, is accessible to all and are operated by our technicians independently thanks to trainings from Sony."
Francois-Charles Bideaux, co-CEO at EMG added: "A major part of our UHD fleet is now equipped with HDR and all of our new trucks are being equipped with the same quality standard by default. We thank Sony for their contribution to achieving our goals."
Hiroshi Kajita, Head of Media Solutions at Sony Professional Europe commented: "At Sony, we always listen and work closely with our partners to provide solutions to meet their evolving needs. We are focused on unleashing the incredible power of images, drawing ever closer to the ultimate desire for the images we see on our screens to mirror what we see with the human eye. Working in partnership with Canal+ and EMG we found a unique solution and implemented an end-to-end HDR workflow that is already creating great results."