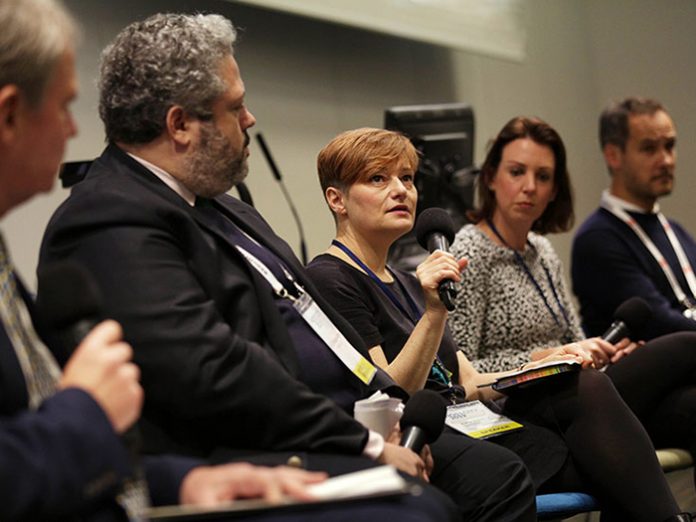 The need to work closer together to meet the challenges of an ever-evolving events industry was one of the key messages to emerge from the sixth Host City conference and exhibition.
300 delegates and 30 exhibitors from all around the world gathered in Glasgow over two days to hear a range of high-profile speakers from the fields of sport, culture, business and medicine deliver discussion and debate around the theme "Innovate; Reformulate; Co-Create".
Speakers tackled a vast array of different topics including the drive for sustainability, community engagement, creating partnerships, addressing equality imbalance and adapting events to meet the needs of the digital era.
In her keynote address, Dame Louise Martin DBE, President, of the Commonwealth Games Federation, underlined how vital it has become for different parties to co-create and reformulate to deliver the best events possible.
She said: "Now more than ever, it is essential for rights holders and federations to collaborate with host city partners and stakeholders to develop sustainable, impactful, world-class and community-relevant events that engage and benefit the widest possible audience.
"I feel extremely optimistic about the future of Commonwealth Sport. There is still much to be done but we are very confident, although never complacent, about the positive impact and huge success that can be derived from Birmingham 2022 and beyond.
"The three pillars of this conference – Innovate, Reformulate, Cocreate – map almost exactly to three of our four strategic objectives. The one not covered is our final pillar in the strategic plan: our collective impact. That fundamentally drives our vision.
"Let's make sure we widen the conversation beyond delivery and collaboration to our wider purpose. Let's think not just about our models but our meaning."
One of the best examples of co-creation in event planning was the 2018 European Championships co-hosted by Berlin and Glasgow.
Stefan Kuerten, Executive Director at Eurovision Sport, gave some insight into the process.
He said: "We had to do something for European sport. There was a risk in a few sports of the level of interest in their European Championships going down. So we put seven of them together to create a new event.
"We looked at cities that might be interested and two stood out: Glasgow and Berlin. They both had the same complaints and questions about sharing the event. But they understood that sharing was better as it helped reduce the cost. Both cities discovered that one plus one didn't make two but three."
Sven Bossu, Head of Innovation, ESTRO (European Society for Radiotherapy & Oncology), revealed that planning medical events also requires co-operation with others and the need to engage with the local community.
He explained: "Our yearly congress welcomes 6500 people for four days. But we had to ask if it was having a positive impact on patients in that region. And the answer was no. We couldn't end our annual congress, but we wanted to reinvent the process for selecting a host city.
"Of course, we wanted it have all the functional things we needed for a conference. But we also wanted to integrate a project that could be shaped and managed to have an impact on cancer patients in that region."
Emily Blitz, Director of Conferences of the International AIDS Society, added: "Ours is a scientific conference. But because of the nature of HIV it goes beyond scientists to the people most affected.
"At our conference we also have an exhibition and programme that's open to the local community. It means we can leave a little bit of the experience behind. It makes it more of a global village where research meets the real world."
Frederik Nemeth, Chief Financial Officer of the Roskilde Festival Group, revealed how events must start to reflect the wishes of a more climate-conscious younger audience or pay the ultimate price.
He said: "The average person coming to our festival is 24 years old and they want to change the world and have no carbon emissions.
"And if we don't fix that problem the festival will close within the next 10 years. The people won't come to our event. So we need to address that issue."
Mandy Keegan, Director of Media Operations at Expo 2020 Dubai, underscored the importance of varying an event's focus for each of its target markets.
She said: "The biggest issue facing major events today is how you engage with such a wide variety of people around the world. At Expo 2020 Dubai we have so many things happening over the six months of the event. We need to tell our story to so many different types of people. We're expecting 150000 visitors every day and we need to make it relevant to all of them."
Markus Stenger, Managing Director of DFB EURO 2024, spoke about the important of co-creating the tournament in conjunction with different parties.
He said: "Everyone is aware that Germany is able to host big major events with infrastructure. But if we want to be successful, we have to deliver more. We've really focused on talking to stakeholders but also on listening. What are their demands, hopes and issues? We want to make it a tournament that brings out the best in everyone with transparency, integrity and sustainability."
Paul Bush OBE, Director of Events at VisitScotland, opened the conference with a keynote speech on his key takeaways from the world of sport in 2019.
He said: "Pay parity for me remains a topical subject in the events world. While tennis may have parity, the majority of other areas in our industry do not. At a recent men's golf event in the USA the winner earned $1.5m. On the same weekend, at a European women's tour event the winner got 23,000 Euros. Even here at the home of golf we have some work to do.
"All events require contingency planning but 2019 for me has raised a number of interesting scenarios that should require further consideration. The destruction and tragic loss of life caused by Typhoon Hagibis during the Rugby World Cup left many wanting, exposed and acting in haste.
"In my personal view, it lacked a detailed contingency plan that the event, sport, athletes, media, and supporters should have been afforded."
Ian Reid, chief executive of the organising committee, spoke about the need to make the Birmingham 2022 Commonwealth Games relevant to the area's demographics.
He said: "We worked closely with the Federation to create a product that we hope will resonate with the people of the West Midlands. We are really focusing on youth, as Birmingham is the youngest city in Europe.
"So, our sports programme will have beach volleyball and three-on-three basketball, while we want to introduce city centre hubs that work around that with DJs and live site programmes to resonate with a demographic that perhaps hasn't always engaged with the Commonwealth's sports programme in the past."
Dr Bridget McConnell CBE, chief executive of Glasgow Life, also emphasised the need to take local communities with you on the journey that is event planning.
She said: "In the next couple of weeks Glasgow will be awarded the accolade of the world's top city for festivals and events. And it's out already that we will be European Capital of Sport in 2023. That's recognition of Glasgow seeing culture, sport and events as a way to regenerate the city.
"But I think this conference has to be aware of the very real challenges facing cities like Glasgow which is pressures on public funding for other priorities such as social care and education. The losers will often be the kinds of services like the ones we are delivering."
David Lappartient, President, Union Cycliste Internationale (UCI) spoke about the need to co-create to deliver the 2023 UCI Cycling World Championships in Glasgow.
"Having strong partnerships is fundamental. If you want to be a huge success everyone has to be on board. And we have been working together with Glasgow to really co-create this.
"Cycling has reacted well to this new vision. We have disciplines that are totally different. But all of them use a bicycle and they are proud to be part of the same event."
David de Behr, Head of Sales at Aggreko Event Services, spoke about the possibility of co-creating events that provide sustainability solution.
"The Solheim Cup was a huge success and that will change dynamics in the future. Do you bring events together to be sustainable? Could you have the Ryder Cup and Solheim Cup at the same time and venue? Men's and Women's World Cup also? That is something to think about if you want to be sustainable."
Sarah Lewis OBE, Secretary General of the International Ski Federation (FIS) and the Association of Winter Olympic International Federations (AIOWF), said: "From the context of co-creation in the six FIS ski and snowboard disciplines which are on the Olympic Winter Games programme, they have diverse characteristics and wide range of cities, resorts and venues.
"Co-creation and partnerships are different depending on locations. So the model can't be one size fits all. You have to find different ways of working together to achieve successful events. That's the key."
Sir Craig Reedie GBE, Member of the International Olympic Committee, gave a heart-warming answer to the question of legacy definition.
"At London 2012, we rebuilt a scene of industrial devastation and turned it into a magical venue. Figures produced six months ago showed that within the six boroughs surrounding the London Stadium since the end of the Olympic Games there have been 125,000 new jobs. I don't know what the definition of legacy is but that's pretty high in my book.
"And there is supposed to be another 135,000 more jobs planned by 2030. So, I'm sure when the IOC get their minds around that they'll be happy with that."
www.hostcity.com