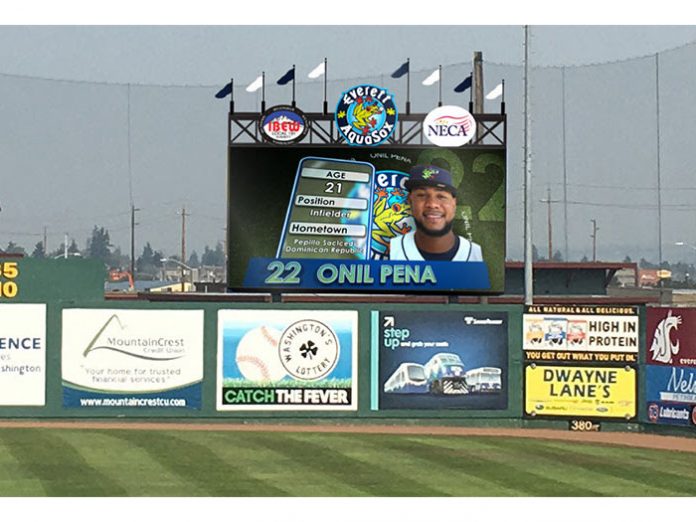 The Everett AquaSox have selected Daktronics to upgrade the visual technology in their outfield at Funko Field in Everett, Washington. The new 15HD video display will be the largest in the Northwest League and is heading to the ballpark this spring.
"This new Daktronics video board will double the size of our existing board making this an absolute Home Run for AquaSox fans!" stated AquaSox General Manager Danny Tetzlaff. "This project would not be possible without the continued support of IBEW Local 191 and NECA – Cascade Chapter. The new video display will take the fan experience to an entirely new level at Funko Field!"
Bringing a large video presence to the outfield, the new LED video display will measure 20 feet high by 40 feet wide featuring a 15HD pixel layout. It also features industry-leading environmental protection and wide-angle visibility to appeal to fans in every seat.
"This new display will WOW the fans at Funko Field for years to come!" said Brady Jacobsen, Daktronics regional manager. "We want to thank the AquaSox for putting their confidence in Daktronics to deliver the largest video board in the Northwest League that will bring a game-day experience that is second to none at this level of baseball."
The display is capable of variable content zoning which allows it to show one large image or multiple separate zones of content. Live video, instant replays, up-to-the-minute statistics, graphics, animations and sponsorship messages can be shown individually or simultaneously using this technology. The versatility allows the team an added level of flexibility for their game-day productions.