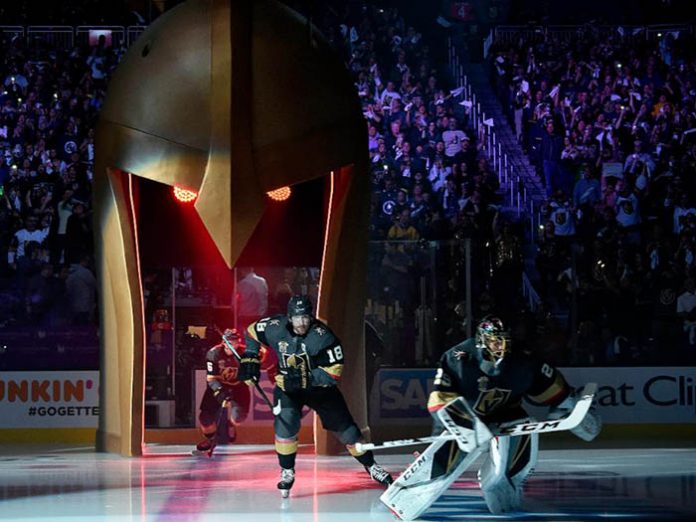 With a nod to Game of Thrones, the Vegas Golden Knights hockey team now enters the ice through an iconic 20-foot, 2,375-pound medieval jousting helmet, artfully accented with 60 metres of FloppyFlex Digital LED neon. Originally conceived for the Stanley Cup, the team's exhilarating entrance is now a standard feature for all home games at the T-Mobile Arena. Designed and built by Water FX of Henderson, Nevada, the colossal helmet features lighting by Sean Guarino, with the FloppyFlex provided by PRG Las Vegas.
"Outlining the helmet to create a portal worthy of the team required something cooler than conventional LED tape," said Golden Knights LD, Sean Guarino. "I wanted this to pop, and Tim Brennan of PRG suggested FloppyFlex Digital, which exceeded my expectations. Using the pixelated Digital RGB version, I can create spectacular multi-colour chases. The colours are bright, vibrant and warm, and installation was a breeze, especially with the help of excellent support from PRG and TMB."
Sean added, "We use three ProPlex FloppyDrive Digital DIN Rail units to drive three 15-metre runs of RGB FloppyFlex Digital. This is way more than adequate to highlight the giant helmet; it can be seen from the farthest points of the arena and really stands out in broadcast shots. We use two solo spot washes to create the 'eyes' peering out from inside the helmet. To keep things interesting for the arena's 18,000 fans, we use a GrandMA console to create a different program for each home game."
Lighting designer Sean Guarino's company, Sexy Lites, Inc., specialises in lighting designs and programming for concerts and touring, special events, nightclubs, theatre, corporate events, conventions, tradeshows, and more.
PRG's Las Vegas location is a multi-discipline depot, providing customers with professional production expertise and leading-edge technology in lighting, audio, video, scenic design, construction, and labour. PRG Las Vegas supports the live entertainment and installation markets with an extensive inventory of equipment and expertise.
FloppyFlex, highest-quality, professional grade, flexible LED neon is the perfect and professional replacement for glass neon:  Super-bright, easy to use, long lasting, durable and, at 24VDC, safe.  Perfect for use indoors, outdoors, and even underwater, FloppyFlex is available in three sizes, in a variety of single-colours and RGB, plus Digital RGB and RGBW with DMX multi-pixel control. FloppyFlex White colour temperatures range from 2100K to 5700K and standard colours include Red, Green, Blue, Yellow, Orange, and Amber. For even greater application flexibility, new high-quality, longer lasting IP68 silicone versions round out the range. Side-to-Side and Front-to-Back bend options are both available and accessories include a wide range of mounting profiles.