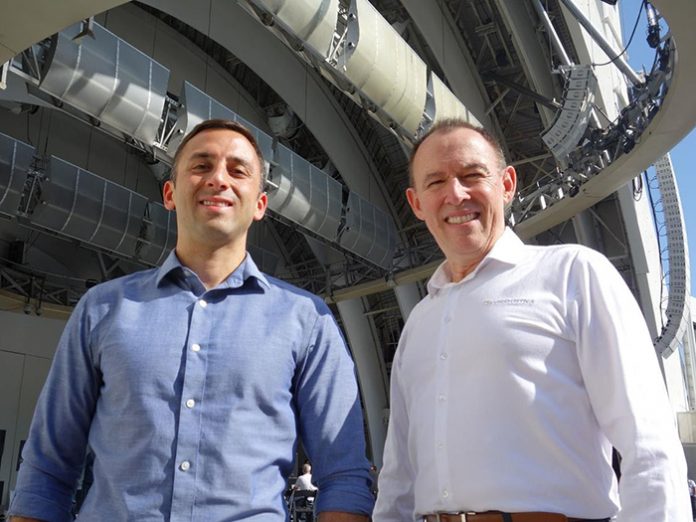 With the increasing demand for concert-level audio in sports arenas to elevate the live sports experience, L-Acoustics products have evolved to incorporate greater levels of control and integration as well as weatherization to match outdoor installation requirements. In tandem with these product developments, the L-Acoustics team supporting this thriving market sector has also evolved, as recently evidenced by the appointment of Gino Pellicano to the new post of Application Manager for Sports Facilities and Consultant Outreach.
To create the L-Acoustics Sports team, Dan Palmer has been promoted to Business Development Manager, Sports Facilities – USA and Canada, after 10 years with the L-Acoustics Application team. He will be working in tandem with Pellicano, who is also based in the manufacturer's Westlake Village, California office and now oversees all technical support for L-Acoustics' sports facility vertical market and its client base.
Gino is also tasked with leading the company's outreach to major sound design consulting and integration firms across North America, both to educate and learn from this key community of sound design experts.
Gino joins L-Acoustics from Powersoft, where he served as the amplifier manufacturer's market development and applications manager for North America. Prior to that, he worked as a project engineer for Burbank-based Electrosonic, following several years spent as an applications engineer for Eastern Acoustic Works (EAW). Pellicano has also previously held design/consultant positions at both Technomedia Solutions and SIA Acoustics.
"Having worked for manufacturers of both loudspeakers and electronics as well as several leading systems integration and consulting firms, Gino's background is uniquely suited to fit the L-Acoustics install application team," explained Laurent Vaissié, L-Acoustics CEO – USA and Canada, who announced Gino's appointment. "His technical acumen combined with organization and communication skills as well as his strong dedication are the perfect match to manage our technical support for the booming sports entertainment market."
"Dan Palmer, in his new role, will be running in stride with Gino to manage all aspects of this vertical market for L-Acoustics moving forward," Vaissié added. "Dan has been instrumental in supporting system integrators, end users, and consulting firms over the past decade. As a direct result of Dan's work, L-Acoustics is now recognized as a major provider of audio solutions for sports entertainment. Dan and Gino will lead the way towards an even greater outreach and support for major sports facilities in the US and Canada."
L-Acoustics Director of Application, Installations Cédric Montrezor shared Laurent's enthusiasm for this new "sports team" of Gino and Dan. "Dan has been with L-Acoustics for over ten years as a respected colleague and leader in opening new markets for the company," noted Cédric. "As his technical counterpart, Gino is well positioned to serve the needs of our current sports facilities clients and to reach out to the broader consultant community. With the widespread adoption of AVB for audio and the popularity of our P1 AVB processor, Gino's electronics expertise constitutes a valuable asset to helping our end users and clients optimize networking and interoperability for their projects."
At InfoComm 2019 in Orlando, Gino and Dan will both be involved on a vendor-neutral seminar titled "Players and Perspectives in Sports Venue Sound System Integration," which will be held in Orange County Convention Center room W414C starting at 9:00 a.m. on Wednesday, June 12. This panel session will present the perspectives of various designers, integrators, manufacturers, and end users involved in major sports stadia worldwide and allow attendees to learn about the opportunities and challenges for sound system integration driven by rising expectations for immersive, AV-rich experiences.