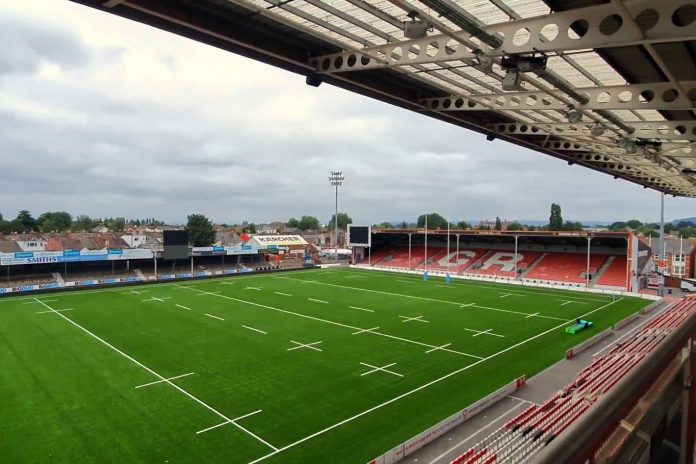 Gloucester Rugby and Landways are delighted to announce that Landways' new digital audio system has gone live at Kingsholm Stadium.
During the COVID-19 pandemic, the club decided that, with fans absent from the stadium, it was a good time to replace the old analogue audio system that had been installed over 14 years ago and which had reached the end of its useful life.
Landways had already installed its market-leading digital infrastructure at the ground to deliver the existing high-performance Wi-Fi (2018) and surveillance camera systems (2019). It was a natural step to discuss a move to digital audio – a new service that Landways' engineers had been developing during the pandemic.
Landways also offered, at a time of financial constraints for the club, to take on the risks of designing, funding and installing the new audio system. In return, a service contract has been signed with specified performance levels guaranteed for the whole term. The club felt that Landways' "Infrastructure as a Service" model, with continued system assurance and built-in hardware upgrades, made them the right partner to deliver their new audio solution.
With the welcome return of fans to Kingsholm Stadium, all visitors can now enjoy the new, concert-quality digital audio system alongside the club's high-performance Wi-Fi and improved safety and security systems, all supported by Landways' long-life digital and power infrastructure.
The new digital solution distributes streamed audio to 384 speakers, connected by a series of amplifiers located at the edge of Landways' existing optical fibre network to provide a crystal-clear, high-quality audio experience throughout the stadium. A fully IP-based Praesensa public address and voice alarm system by Bosch has been incorporated, providing a fully compliant emergency evacuation system.
The new digital audio system replaces the club's old analogue PA system. With the majority of the analogue system components and cabling being over 14 years old, there were problems with intelligibility and 'dead spots' around the stadium, leading to numerous complaints from fans. Some of the existing speaker cables installed on long runs between the equipment rooms and loudspeakers were showing signs of damage and some of the old cable terminations installed at exposed loudspeaker positions had been corroded, which all contributed to signal degradation and power loss.
Landways' digital audio system removes the previous long cable runs, delivering the audio signal from amplifiers contained within the existing distribution points to loudspeakers which are typically located no more than five metres away. This highly distributed design eliminates signal degradation and power loss.
The IP-based, low audio signal latency, routing and mixing functionalities provide millisecond timing control for high quality speech and music delivery, eliminating volume and delay challenges which can be heard as echo, muffled sound, volume variations and 'dead spots' – all common issues with the old analogue system. The highly distributed system coupled with extensive audio control enables Landways to offer the club a performance guarantee for the lifetime of the contract, defined by specific parameters for both music and speech delivery, covering sound pressure levels for volume measurements, frequency response for quality measurement and intelligibility for clarity measurements.
Hospitality and event spaces will benefit from an enhanced user experience, with TPC-1 touch panel controllers providing a simple user interface and offering multiple inputs and easy integration with video sources. This will give private guests the ability to customise their entertainment experience on match days and for private events.
Landways' new public address system has played a key role in an agreement between the RFU, Premiership Rugby and BT Sport to trial broadcasting referee decisions to fans. During the Bath Rugby match on the 12th of November, the trial gave fans access to a greater understanding of the decisions referees make when a TMO review is requested. Once the referee is ready to announce their decision, the referee microphone will be broadcast over the PA system, delivering crucial decision details to fans to bring home viewing benefits to stadium crowds.
The audio installation further extends the use of Landways' unique infrastructure, adding another 168km of optical fibre to the 192km previously installed in 2018 to support the club's high-performance Wi-Fi system and subsequent CCTV installation. The new audio system also brings Landways' patent-pending Induct system (application number: GB2592955 (A)) to the site.
The installation of Induct has enabled Landways to install an energy-efficient DC microgrid to power the new digital audio system throughout the stadium, and other systems in the future. This revolutionary new power solution reduces the amount of power equipment by 25% and uses 15% less energy than conventional AC systems – a major benefit to reduce power costs and create energy efficiencies to reduce the carbon footprint. Kingsholm's DC microgrid is one of the first to be installed in a sports venue in Europe.
Gloucester Rugby Chief Executive Officer, Lance Bradley said: "We are excited to share this project with the Gloucester Rugby fans and the wider Gloucester and rugby union community. Through the COVID-19 pandemic we worked hard to ensure that when fans could return, their safety and match day enjoyment had been improved. Our previous sound system needed to be upgraded for some time, so I wanted to make this upgrade a priority.
"Going to market, we shortlisted suppliers and engaged independent specialist audio consultants to review the technical solutions offered. We wanted to deliver high-quality audio as part of a great entertainment experience at Kingsholm.
"Landways' technical designs stood out, exceeding our performance requirements. With Landways, we are addressing the fans' needs while improving our facilities for other events and commercial opportunities.
"We believe we have gained a lasting solution we know fans will enjoy for years to come."
Chief Executive of Landways, Chris Smedley said, "Our new digital audio system is designed to meet the challenges of delivering high-quality music and intelligible speech across complex stadium environments. Using the same digital and power infrastructure behind our market-leading Wi-Fi and CCTV systems, as well as a host of other future applications, we firmly believe that digital audio is the way forward for any ambitious club looking to upgrade its audio systems.
"We are delighted to extend our partnership with Gloucester Rugby and deliver a fantastic new audio system for visitors to Kingsholm to enjoy and to help keep them safe.