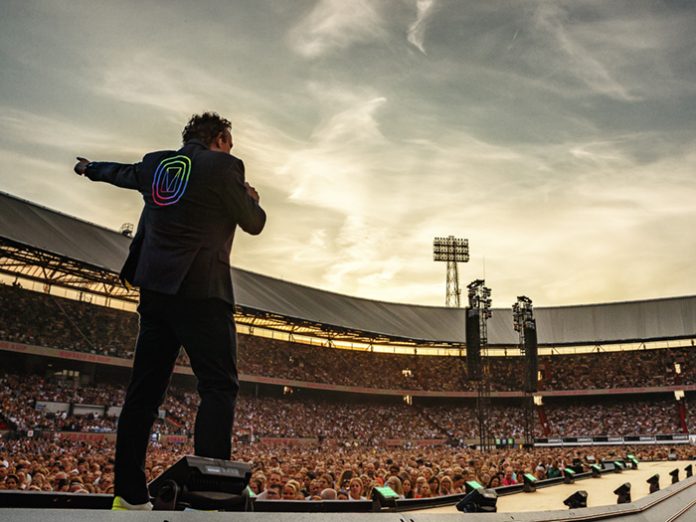 Superstar Dutch singer Marco Borsato performed his anthemic back catalogue to 240,000 fans over five nights at Rotterdam's De Kuip stadium in May. His dynamic songs and enthusiastic performance style required full spectrum coverage across the entire roof-less stadium, leading the production team to the d&b audiotechnik SL-Series.
Borsato is a national treasure in The Netherlands, thanks to a hit-making, multi-award-winning, twenty-year career. He is one of a handful of artists with the fanbase clout to play five nights at one of his country's biggest venues – the fifty-one thousand capacity De Kuip (which translates into English as 'The Tub'- the affectionate nickname for the Stadion Feijenoord).
Utrecht-based d&b partner Peak Audio was challenged with providing a system that could deliver the full-frequency range in the demanding open-air stadium environment.
Anthony Kappel served as System Designer and Chief System Engineer alongside colleague Bart Schouten from Peak Audio, who was System Designer and Project Manager for the series of concerts.
"As an early adopter of the SL-Series, we've had the opportunity to gain a lot of experience with the cabinets, and even more when designing and specifying both GSL and KSL for the Marco Borsato concerts," said Bart. "We benefitted a lot from the accurate simulations we achieved using d&b ArrayCalc, and we were confident we could get the best result possible for a concert in a stadium like De Kuip."
In addition to the ArrayCalc software, the team also utilized d&b ArrayProcessing to accurately determine the behaviour of the SL-Series line array across the entire listening area within De Kuip.
Front of House Engineer and System Designer, Barak Koren, said: "ArrayProcessing proved indispensable in achieving accurate simulation in the design phase, providing a powerful tool, especially when applying temperature and humidity changes during the gig."
Koren, Schouten and Kappel specified forty GSL8 cabinets for the right-left main arrays and a further forty for out-fills and delays. These were complemented with a series of KSL8 for the main fly-fills and far-fills. GSL12s were on duty for front-fills, with SL-SUBS positioned around the stadium. One hundred and eighty d&b D80 amplifiers fed the setup.
"The GSL and KSL System enabled me to mix with a big dynamic range – soft piano songs and massive pop arrangements – and obtain the clarity of the vocalist across the whole venue," Barak continued. "It offered great projection with very smooth polar pattern off axis.
"We also achieved this with minimum sound pollution outside of the venue – as the open-air stadium could spill sound out into the residential neighbourhood. We had great results and no complaints, despite the high sound levels within the venue and full spectrum coverage. The only system that can deliver these requirements is the SL-Series."
Concert reviews praised Borsato's 'frenzied sing-alongs' and 'dramatic ballads', noting how the venue sounded like 'one big choir'.
"The GSL and KSL System sounded clear, detailed and tight in the low end," said Barak. "The coverage was good, and even, so it was easier to mix. We got great reviews, so we probably did something right! The controlled low-end frequencies are the biggest benefit for stadium sound. That creates clarity that gives the ability to mix softer with the same level of sensation."