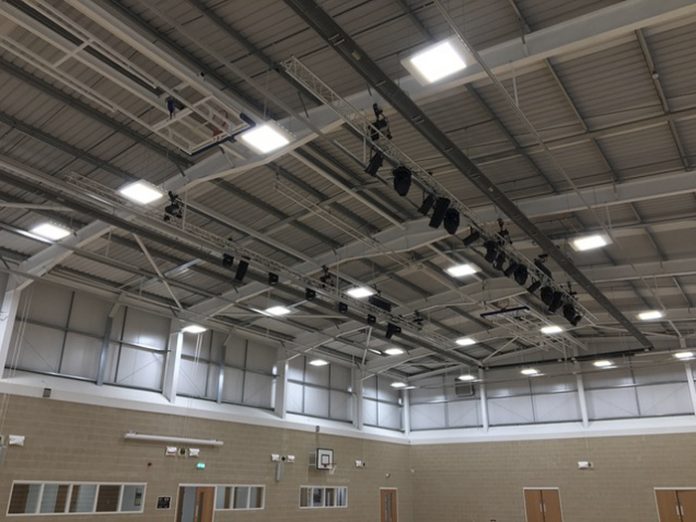 After a series of investments to secure its future as one of Hertfordshire's leading independent schools, Kingshott School in Hitchin approached Prime Audio Visual and Lighting Solutions to provide a comprehensive, yet flexible solution for their newly constructed sports hall facility. This can also be converted into a 450-seat performance venue with full live sound, stage lighting, projection and back of house theatrical show relay systems.
Drawing from their wealth of experience in designing bespoke systems for theatre and live performance venues across multiple sectors, the team at Prime AVLS were able to incorporate a number of key features which allowed for easy switching between day to day use of the system for assemblies or sports lessons and full scale sound and lighting for school productions, music concerts and presentation evenings which require a greater degree of control. For their audio requirements they turned exclusively to the HARMAN brand portfolio, distributed in the UK and Ireland by Sound Technology Ltd.
While the need for the roof structure to accommodate a complex network of sports nets and tracks provided challenges with regard to the lighting—two truss positions were agreed with consultants Ball Hall and main contractor Evers Construction—the audio system posed no such difficulties, and now offers the school tremendous versatility.
Constructed around a fixed format BSS Soundweb BLU-100 backbone, it allows a near infinite number of presets and parameters to be pre-programmed and then recalled by the school staff using the dedicated Contrio control panels located around the building. Prime AVLS have used Soundweb London devices on projects for many years and it consistently proves to be a flexible and reliable solution. In addition, Soundweb has also been utilised to allow AV control and routing with the 18K laser projector.
Another challenge for the team was achieving consistent audio coverage across the 25-metre wide span of bleacher seating without resorting to having a large number of point source boxes on each truss. Due to their wide dispersion and selectable vertical coverage, three pairs of JBL CBT 70J-1s were specified, one pair on each lighting truss and one pair installed on the front wall for use during assemblies. Their controllable directivity minimises the amount of sound being fired at the hard surfaces in the hall. In addition a pair of JBL PRX 18" subwoofers were incorporated to allow reproduction of the lower sub-bass frequencies, which can be rolled out and plugged in as required.
At the design stage of the project the school indicated that having a dedicated control room that could also be used to carry out tuition and training would be essential in allowing students to participate. As such, a large room on the first floor has been created to allow optimal visibility of the stage as well as housing all system equipment and control surfaces.
For front of house and monitor mixing a Soundcraft SI Impact console was specified because its relative ease of use and intuitive controls make it ideal for students to learn on. Audio signals can be patched from/to multiple custom facility panels located around the venue and in backstage areas using a dedicated patching system.
The lighting specification saw similar attention to detail and the final aspect of the project involved installing a number of backstage relay systems allowing effective communication between stage crew and actors, which would otherwise be difficult in a building of this size. A venue-wide show relay and paging system was installed with speakers across eight zones, and dedicated paging mic positions built into the custom facility panels. In addition, a separate sound intercom system was provided for use by stage crew, and a full HD camera system was installed which can be relayed to monitors backstage over the CAT6 infrastructure.
In conclusion, staff from the school have commented how pleased they are with the finished solution, along with the professionalism of the team at Prime AVLS, with each aspect of the project exceeding their expectations.
All aspects of the system have been thought through in great detail, allowing for all possible performance scenarios. The equipment provided allows for exceptional results whilst also taking into consideration the sports requirements of the building, therefore fulfilling the brief of being a truly multi-purpose venue.