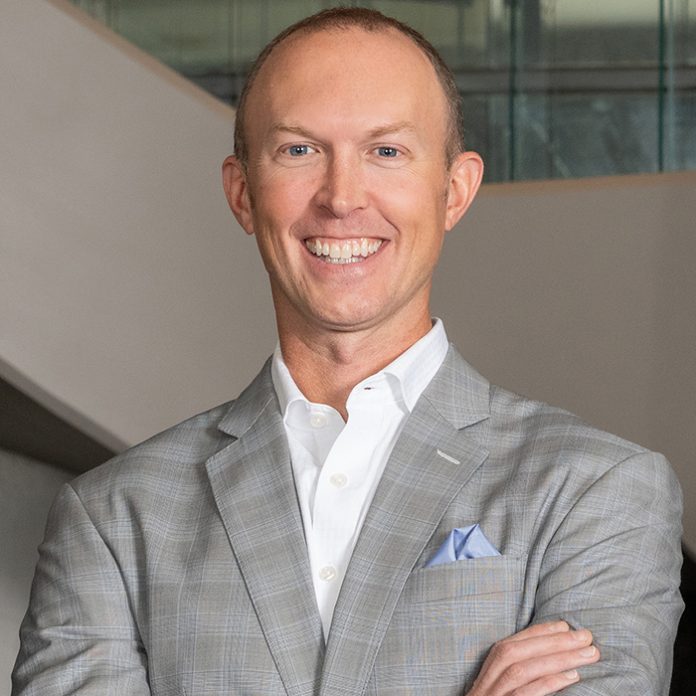 Henderson is proud to name Kevin Lewis as the next CEO & President of Henderson Engineers, and the President of Henderson Companies, the parent company of Henderson Engineers and Henderson Building Solutions. Lewis becomes the fourth CEO & President in Henderson's 52-year history and succeeds Rich Smith, who will remain with the company as President-Emeritus and a board member.
As part of this leadership transition, the firm also unveils a new company structure that aligns Henderson's vast nationwide engineering and construction experience across building types into five sectors: Business, Community, Health, Retail, and Venue.
A licensed professional engineer with more than 20 years of AEC-industry experience, Lewis has held a variety of leadership roles at Henderson since he joined in 2004. His vast knowledge of the business has brought him success as a project manager, project engineer, venue practice director, director of practices, and most recently as the company's chief sector officer.
"I am humbled and proud to be selected as Henderson's next CEO and am excited to lead our firm into the future," said Lewis. "Henderson has been known for our people-first culture, technical innovation, and focus on client relationships for more than 50 years. In that time, we've added new services, new offices, new vertical markets, and the best employees in the industry."
"We are now aligning our design and construction expertise across vertical markets into five specialised sectors," Lewis added. "Through this structure, we offer clients and partners a single source for engineering and turnkey construction management services. Our goal is to lead the industry with our approach to client experience."
Henderson's new sectors include nationwide experts from both Henderson Engineers and Henderson Building Solutions who specialise in the building types within that sector. Henderson named an executive to lead each sector who will work collectively with firm's executive leadership team.
Henderson also selected industry veterans Tony Welter and Vince Masilionis to lead sectors dedicated to two of Henderson's largest clients.
"When you've been in business as long as we have, you've worked in almost every building type in every market," said Lewis. "We understand that good engineering design requires great building partners to bring it to life, which is why we provide both through Henderson. I'm excited about our move to specialised sectors as it lets us double down on great client service and provides even more career opportunities for employees who are passionate about working in these markets. We're still the same Henderson; these changes are simply the latest evolution of the people-first, client-focused firm we've always been."
Lewis steps in for Smith, who served as Henderson's CEO & President for the past nine years, helping transform the company from a small, local firm into a national engineering and building systems design powerhouse with 12 offices across the country. Henderson experienced some of its highest employee and revenue growth years in company history under Smith's leadership. He was passionate about fostering a people-focused company culture known for creativity, flexibility, and diversity. He played a pivotal role in helping Henderson land some of the largest projects in company history and was a founding member of KC Global Design, a collective of design firms and leaders focused on elevating Kansas City's reputation in the world of design.
"I am thrilled Kevin was selected as Henderson's next CEO and am confident the firm is in good hands," said Smith. "He is a strategic leader known for his technical knowledge, innovative mindset, and strong industry relationships. He's also a friend and someone I've worked closely with for almost two decades. We made an intentional decision to choose our next CEO from within Henderson to protect the legacy started by Fran Henderson more than 50 years ago. Kevin understands what we stand for as a company. His vision for the future of Henderson builds on that legacy as we continue to enhance our client service and employee experience."
In addition to naming a new CEO and sector leadership, Henderson also named a new Board of Directors for Henderson Companies, the parent company. Lewis joins the Board, which is led by Robin Broder as the newly elected Chair of the Board. Additional members of the Board of Directors include Dave Haake, Shane Lutz, Drew Rimmer, Vince Masilionis, Andrew Bennett, and Smith. Steve Hancock was also named as the new president of Henderson Building Solutions as part of these changes.