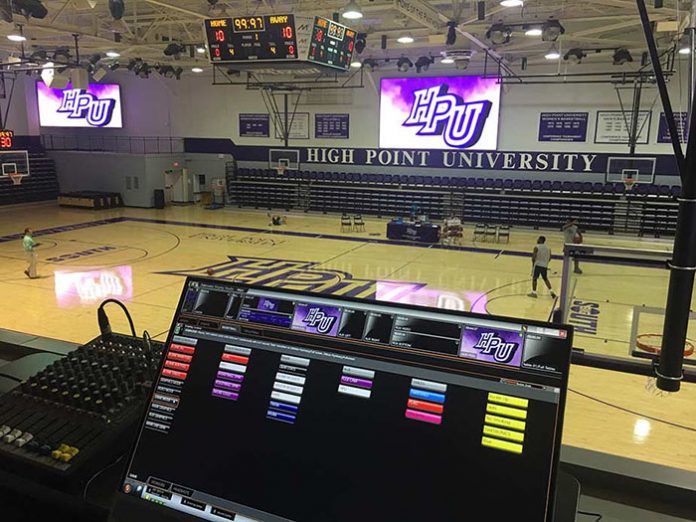 Daktronics has partnered with High Point University to manufacture and install four new LED video displays to the Millis Center in High Point, North Carolina. Installation was completed this summer to bring improved visual experience to Panthers sports and special events.
"High Point University is thrilled to enhance the game-day experience for our fans this season with the installation of new Daktronics video boards in our basketball arena," said High Point University Athletic Director Dan Hauser. "Daktronics has been the leader in the area of video board technology and it was an easy decision to partner with a business built on customer service and quality products. We're excited to begin the 2018-19 basketball season with hall of fame head coach Tubby Smith and a transformed Millis Center thanks to Daktronics video boards."
The main display measures 12.5 feet high by 22 feet wide and three auxiliary displays each measure 9.5 feet high by 16.5 feet wide. All four displays feature 6-millimeter line spacing to bring crisp, clear imagery to fans, student-athletes and coaches at every event.
"This project started out with a goal of increasing the size of each display in Millis as well as trying to streamline their control system in hopes of making the operator experience more user-friendly," said Corey Williams, Daktronics sales representative. "I think that we were able to accomplish their goals and it has brought a new feel to this great facility. We're very grateful for the opportunity to build upon our long-standing relationship with High Point University and can't wait to see the impact the new system will have on the fans' game-day experience."
Each of the video displays is capable of variable content zoning. This allows each display to show one large image or to be divided into multiple zones to show any combination of live video, instant replays, up-to-the-minute statistics, graphics, animations and sponsorship messages.
Along the sidelines, the Millis Center received four courtside LED scorer's tables. Each table measures approximately 2ft high by 9ft wide and features 10mm line spacing. They can provide supplemental content to the main displays such as statistics and graphics as well as offering the opportunity to highlight sponsors throughout events.
Daktronics included its powerful Show Control System with this installation. This industry-leading system provides a combination of display control software, world-class video processing, data integration and playback hardware that forms a user-friendly production solution.
www.daktronics.com