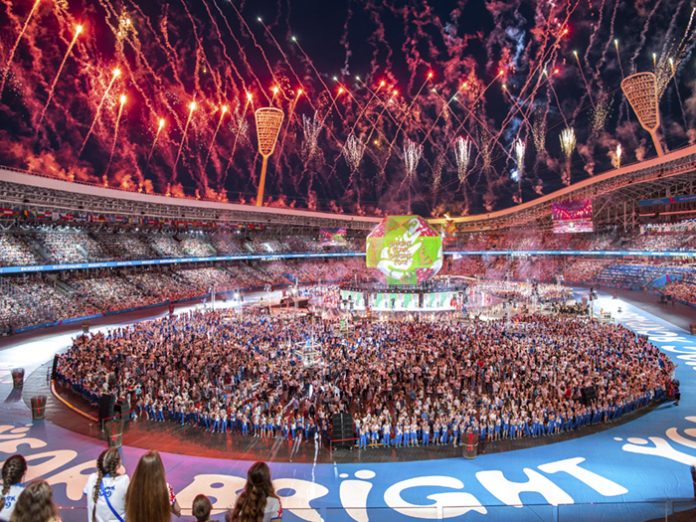 Thousands of lighting fixtures and LED devices supported the "Bright Year, Bright You" theme of the Opening and Closing Ceremonies of the 2019 Second European Games earlier this summer. Dinamo National Stadium in Minsk, Belarus was aglow with the glittering pageantry, and a network of High End Systems Hog lighting consoles controlled it all.
The main lighting control system was comprised of two Hog 4-18 flagship consoles plus two Full Boar 4 consoles, all networked in a multi-programmer setup, outputting data via 5 DMX Processor 8000 units. A near-identical backup system was also on standby.
The physical set featured eight stages. In addition to the more than 1,000 moving head fixtures, Hog consoles controlled all the LED pieces, including the set decorations, the interactive audience bracelets and pixel tubes. Because of the massive amount of pixel mapping required, Hog connected with the Madrix LED control as the interface to trigger the LED devices.
The ceremonies captivated the crowds and worldwide broadcast audience with the story of Belarus – from folklore to the future. Lighting Designer Evgeniy Toma of the Sechenov agency and Russian company Art City 5 were in charge of the production, whose planning spanned more than a year.
For this large-scale stadium event, the LD insisted on using the Hog line of consoles. As a longtime Hog user, Evgeniy wanted a flexible, powerful and reliable control system plus the speed of programming he counts on for this complex show.
Russian distributor SiM, together with ETC's local service engineers and the HES Hog experts in Austin, Texas supported to have everything up and running smoothly.
"Everything worked fine!" Evgeniy said about the massive networking setup. One of his favourite Hog features is working with timecode, which was necessary for this event. "Everything on the Hog console is very accessible, it's easy to make quick changes and there is a flexibility of working with various macros."
He enjoyed using the new Hog 4-18 with its larger 18-inch screens and extra arms for monitors and other devices. "The screens are perfect and so pleasant to the touch," he noted. "It makes me think of the AC/DC song, 'Touch Too much.' I want to touch this screen more often! And extra arms are something that has long been missing. We certainly used them."
Evgeniy's assistants were Anton Voronin (Hog 4 programmer), Aleksey Bogomolov and Anton Polyakov. Engineers were Aleksey Pavlenko (who took care of Hog 4 networking and systems integration) and Dmitriy Gurev.
This same production team reunites in August – using the same Hog set up – for the World Skills Competition 2019 Opening Ceremony in Kazan, Russia.