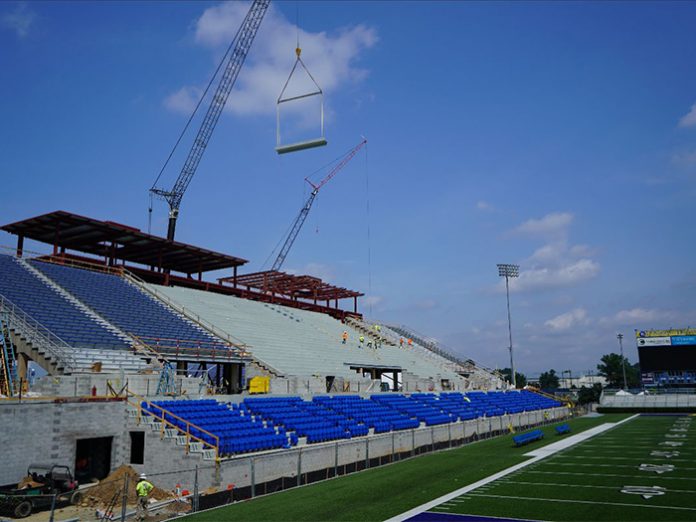 The International Code Council Evaluation Service (ICC-ES) has published a new acceptance criteria for the evaluation of steel sandwich plates, such as SPS (Sandwich Plate System), a patented steel composite building solution provided by SPS Technology.
The ICC-ES Acceptance Criteria (AC444) was developed by the ICC Evaluation Service (ICC-ES) technical team, which evaluates building products' performance against the international family of codes, in particular the International Building Code. AC444 covers the use of steel sandwich plates in roofs, floors, and terraces. Testing of the SPS product against the criteria is currently underway.
Speaking on the publication of the AC444 acceptance criteria, David Glover, CEO, SPS Technology, said: "SPS Technology has a rich pedigree within the construction industry in the United States and internationally, servicing sectors including buildings, stadiums, arenas, and civil infrastructure, for twenty years.
"We're proud to have built a robust reputation of trust and reliability across the construction industry. The publication of the acceptance criteria and, in time, ICC-ES evaluation report of SPS, will provide the construction industry with the security that SPS is compliant with the IBC."
The International Code Council, provides a wide range of building safety solutions including product evaluation, accreditation, certification, codification, and training. It develops codes and standards used worldwide to construct safe, sustainable, affordable, and resilient structures.
SPS comprises two steel plates bonded by an elastomer core, and is the only structural building material available today which matches the performance of reinforced concrete. SPS plates have been used successfully in the built environment in roofs, floors, and terraces for more than a decade, spanning over 60 projects and totalling upwards of 120,000 m2.
Prior to its use in the built environment, SPS was originally developed for the maritime and offshore industries more than 20 years ago and has wide approvals from other leading classification societies including ABS, Lloyd's Register, and DNV GL.
Today, SPS projects are designed using the Alternative materials, design and methods of construction and equipment provisions of IBC Section 104.11, which provides a performance-based approach. Full evaluation by ICC-ES to the requirements of AC444 will affirm SPS' suitability as a core construction material, generating significant time and cost benefits compared with currently accepted materials such as reinforced concrete.