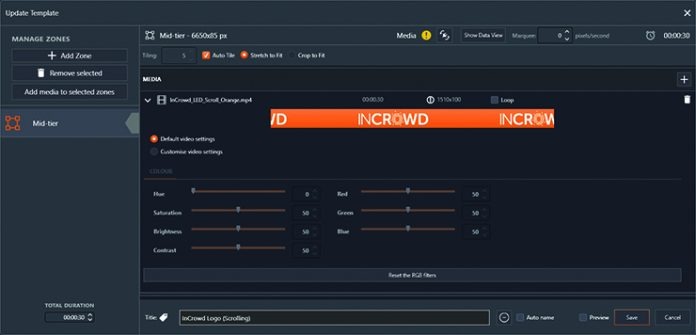 InCrowd Cast is a game-changing in-stadia LED display management software, currently powering over 130 stadiums and sports venues around the world including Wembley Stadium, Johan Cruyff Arena, Murrayfield, Stamford Bridge, Stadium Australia and Sydney Cricket Ground.
"Installing InCrowd Cast was the best decision I ever made at Chelsea, It's user friendly, easy to understand and so powerful. It was light years ahead of anything else we had used for our pitch side advertising boards." – Chris Frazer, Former AV Manager at Chelsea FC.
Alongside standard game time output, Cast has also powered several fan activations for sports and brands around the world, including The Hundred, Indian Premier League, Australian Football League & Kennedy, SA20, and Netball Australia & Origin. Activations include decibel meters, live fan voting, social feeds, live statistics, live betting odds, live video and much more. Mobile technology and fan activations can be integrated with screen control and graphics, engaging viewers and enabling brand partners to become an organic part of the story.
Read the full article below: