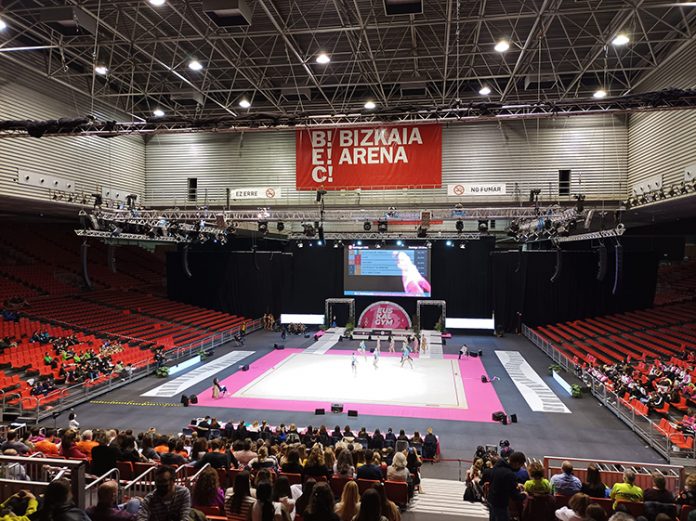 Few events in the world of gymnastics are as prestigious as The Euskalgym International Rhythmic Gymnastics Gala, an annual non-competitive celebration which brings the sport's brightest and best names from around the world to the BEC Arena in Barakaldo, Bilbao.
More commonly known simply as Euskalgym Gala, the event's organiser was forced to cancel the 2020 edition due the global pandemic, meaning anticipation was running especially high when it made its return in November 2021.
But as participants and spectators alike made their way to Barakaldo, leading regional events company Tarima Technical Solutions were tasked with ensuring that the event's sound production was every bit as impressive as the gymnasts' performances.
With performances taking place in the centre of the 11,500 seat arena, surrounded on all sides by eager spectators, the audio system needed to ensure that both onlookers and participants benefitted from clear, precise coverage. In addition, it needed to be physically discreet to ensure audience sight-lines remained clear.
Tarima's Imanol Garcia worked with Jorge De la Torre and Anselmo Calleja of Soinua Pro to develop the ideal solution – an impressive in-the-round design comprising no fewer than 99 TW AUDiO ELLA6 enclosures.
"Euskalgym is a unique show which attracts the best gymnasts in the world," explains Soinua Pro's Anselmo Calleja. "It is a tribute to gymnastics as an artform and designed to delight fans of the sport – its return was a massive event. We needed the best possible sound to match the special atmosphere and TW AUDiO ELLA was the perfect choice."
ELLA combines the slim form factor of a column with the flexibility of a line array plus built-in passive cardioid technology. Each ELLA6 unit combines a custom-designed waveguide with five 1″ dome tweeters to reproduce smooth and precise high frequencies up to 20 kHz, matched with a custom designed high performance 6.5″ driver.
Flown across nine arrays, the 99 ELLA6 elements were supported by six S33 cardioid subwoofers plus two M10 fills. A total of eight SYSRACK-X with Powersoft X4 amplifiers drove the system. The result is described by Calleja as "impeccable".
"ELLA gave us amazing intelligibility with highly detailed, clean audio thanks to its cardioid behaviour and all in an extraordinarily compact size which delivered the minimal visual impact we needed," he continues. "The 120-degree horizontal coverage was incredible and the S33 cardioid subwoofers perfectly rounded out the low-end frequencies.
"We always try to get the best for our customers and the tools that we choose are very important. We're very happy with ELLA – it is a system with a lot of possibilities for providing modern, simple and efficient solutions to our customers."