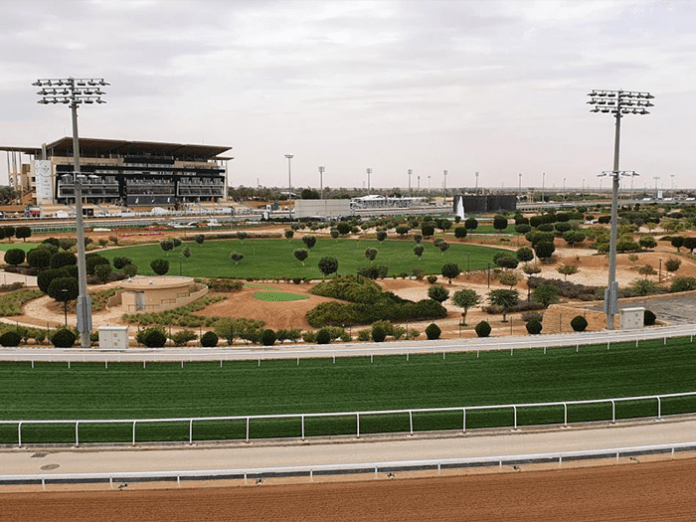 A VITEC MGW Diamond quad channel encoder is helping to bring the Jockey Club of Saudi Arabia to a worldwide audience.
The Riyadh-based club was seeking to expand its weekly horse racing coverage – which take place on Fridays and Saturdays during its season – beyond its domestic reach and into new markets via internet streaming channels. The solution uses the MGW Diamond encoder, sending the stream to NEP Connect and onto Sports Information Services (SIS) via public internet. From SIS it is distributed to customers and partners worldwide via its retail and online services, including its 24/7 Live Betting Channels.
"Traditionally we would've looked to have put a satellite truck on site for a project like this," says James Bonnar, Broadcast Technical Consultant of Proimage Solutions Limited. "However, with about 14 hours of total coverage over the two days, and the need for a satellite truck, it would have been very cost prohibitive to use this broadcast workflow. Working with the Jockey Club's head of IT, Mr Mohamed Elhalwany, and Tom Ryan, the Director of Strategy and International Racing, we looked at what internet speeds we could get and what bandwidth could be dedicated to a possible stream.
I ran some successful streaming tests to the UK and spoke to Lorna Garrett, Zest Technologies Managing Director, about purchasing an SRT encoder. I've worked with Lorna for a long time, and over the years we have looked at various streaming systems and remote contribution systems using the public internet, now that it is improving."
MGW Diamond is a small, power-efficient quad-channel HD or single-channel 4K HEVC video encoder ideal for field-based applications. It features a powerful encoding engine with the ability to output up to eight streams simultaneously. The system in Saudi Arabia takes the mixed output from a broadcast flypack – also installed by Proimage Solutions Limited – which is then distributed. It makes use of several SRT streams: one going to SIS, and another going to Proimage Solutions Limited for remote monitoring purposes.
Whilst the stream is not currently 4K, the MGW Diamond encoder is powerful enough to deliver the resolution, providing additional future proofing and expansion flexibility without significant additional costs.
"The solution has been very robust, and the support has been fantastic," adds James. "VITEC was always there to jump in and provide support; they helped ourselves and SIS get the setup working in no time at all. The quality from this encoder has been amazing using SRT. We're pushing out an 8 Mb/s HEVC stream, and it is fantastic. When you look at it on a grade 1 broadcast monitor it is very impressive. It has also delivered on cost effectiveness over alternatives, which made it a viable project to do – without that, it simply wouldn't have happened."
Following a successful season of streaming in Riyadh, the encoder system is being moved to another racetrack in Saudi Arabia, where it will be used to stream action from Ta'if in the southwest of the country for 10 weeks.
The MGW Diamond encoder was supplied by Zest Technologies (originally through Garland).