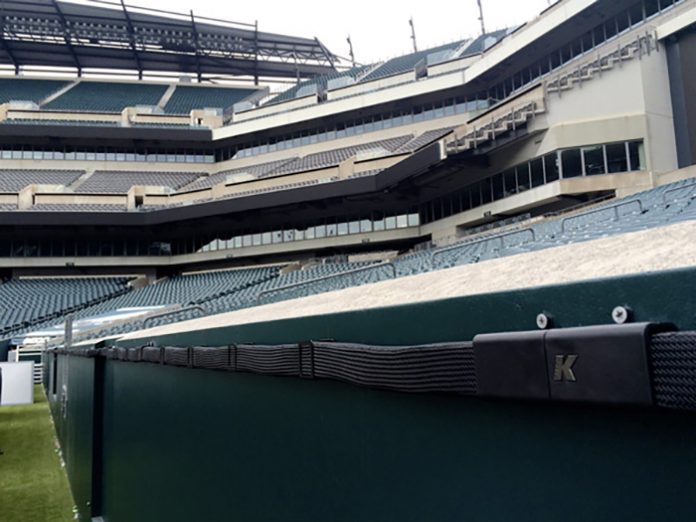 You may not see NFL football team Philadelphia Eagles vying for the Super Bowl next week, but the team still had a lot to celebrate this season. The Eagles' home stadium, the Lincoln Financial Field, recently underwent a two-year renovation plan to enhance the fan experience. Improved amenities included new HD video boards, Wi-Fi, and seat expansion.
To accommodate some of these updates, Lincoln Financial Field had a requirement to provide top quality sound to premium seating on the edge of the football field. With sub-par sound arriving from distant speakers, the front row seats needed a bit of a boost for optimum intelligibility. With little space available for speaker mounting, K-array had just the solution.
Installers Diversified Systems was introduced to the Italian manufacturer a few years back at a demo and reached out immediately to K-array America to determine a PA that would meet all the clients' needs. Together they designed a system using the Anakonda KAN 200+ flexible, two-meter speaker.
"The Anakonda is very low profile, offers a built-in daisy chaining feature, and can survive outdoor installations," explained project supervisor and engineer, Jeff Dykhouse. "These qualities made it ideal for this sort of application." Dykhouse, along with Director of AV Engineering Pete O'Neil, Project Manager TJ Beardsmore, had 22 Ankonda units mounted along the curvature of the stadium seating and are powered by a QSC CXD amplifier which is connected to the larger DSP system at the venue.
"The clients are happy and we are sure our efforts will help fans to cheer on their team to a winning season," exclaimed Dykhouse.