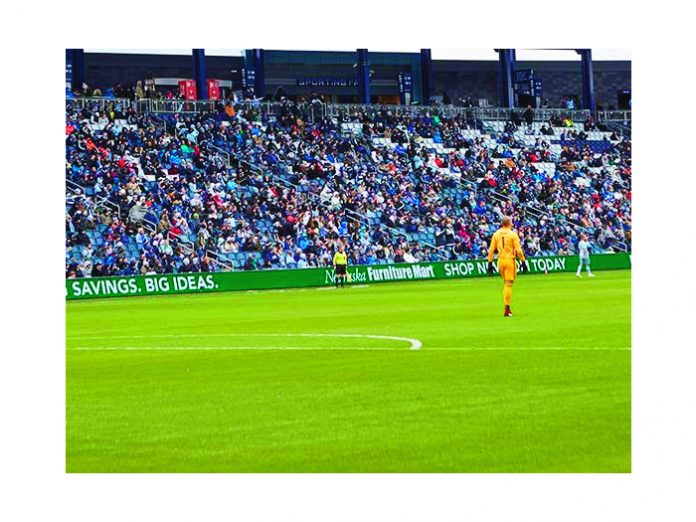 Daktronics has been asked by Sporting Kansas City Football Club to manufacture and install 835 linear feet of LED displays along the field level of Children's Mercy Park in Kansas. A 15.5-foot tunnel display was installed along with the field level displays in March.
"We're excited to welcome Daktronics as one of the club's newest partners and we're thrilled to showcase our partnership at Children's Mercy Park," said Jon Moses, Sporting KC's senior director of corporate partnership sales. "Our stadium continues to be one of the most technologically advanced venues in Major League Soccer and Daktronics will now help us deliver an even more engaging experience for our fans."
Lining the soccer pitch at 2.5 feet high by 835 feet in length is LED technology featuring 15-millimetre line spacing. These displays are video capable and can show multiple different graphics, statistics or sponsorship messages throughout events.
"Our pitch perimeter displays are engineered to provide a visual experience that is second to none," said Tony Mulder, Daktronics regional manager. "The brightness punches through direct sunlight to engage viewers, and we're looking forward to this installation having an impact on matches at Children's Mercy Park for years to come."
Above the tunnel entrance in the southeast corner of the park, another display measuring 3.5 feet high by 15.5 feet wide and featuring 15-millimetre line spacing was installed. This has similar functionality to the sideline displays and offers supplemental information to fans and viewers.
These new displays feature industry-leading environmental protection to keep them operating as expected in the outdoor elements. They also provide excellent image clarity and contrast with wide angle visibility to appeal to every seat in the park.