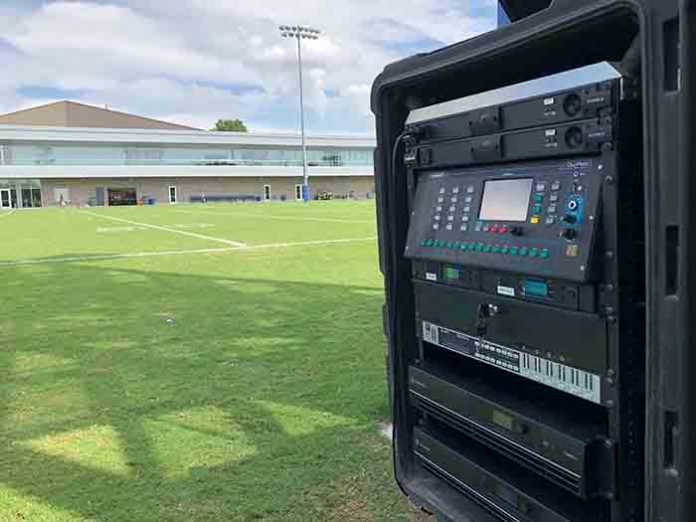 Head coach Mark Stoops has shown himself to be quite capable of taking charge when it comes to leading the University of Kentucky Wildcats into gridiron action, but it took a decidedly different kind of guy with a shock of spiky hair and dark sunglasses named Max Maxwell to bring better command to the audio systems serving the team. Utilising Allen & Heath's compact Qu-Pac digital mixers, Max, along with his own players from Jeffersonville, Indiana-based SystemMax, has developed and installed new layers of audio control for multiple venues used by the Wildcats for everything from practice to championship games.
"There was one thing in common among all the facilities the Wildcats had at their disposal," Max recalled vividly after he and his business partner Darryl Johnson first visited the university. "And that was regardless of the venue, there was always a rack full of gear stuffed away in some back room that couldn't be further removed from the playing fields they served. The mixer would always be in that rack. We asked ourselves: 'Shouldn't that stuff be out front where they could control it easier, and more-to-the-point, shouldn't the operators be able to hear the sound they are actually trying to shape in the environment where the listeners are?' The correct answer to both those questions, of course, is yes and yes."
Maxwell and Johnson ultimately found a better solution in the form of Allen & Heath's Qu-Pac mixer. Imbued with the power and performance of the company's Qu Series family, compact Qu-Pac products are shrunk-down digital devices that can be either rack mounted or used as you would a standard desk-type console. Capable of utilising custom settings and Cat5 expansion with up to 38 inputs, the mixer's functions can be accessed via the front panel and touchscreen, or from an iPad.
"Gaining iPad control of these systems is what brought real change to the university," Max added. "Now the operators can lower volumes, mute microphones, play music—anything—right from the field. Even coaches can if they want. The template is simple, universal, and totally familiar for everyone within each location as well, so there's no learning curve for system operators as they move from venue to venue, and the performance is rock-solid regardless of whether it's an afternoon scrimmage or major contest."