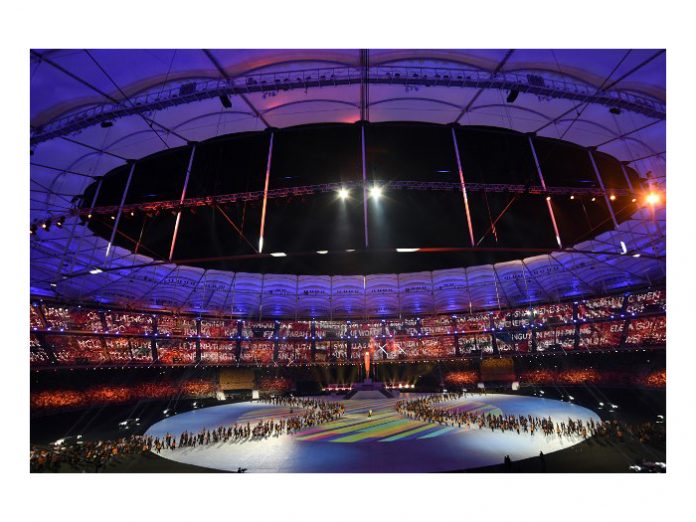 The first part of the transformation of Malaysia's Bukit Jalil National Sports Complex, into one of Asia's top sporting venues, KL Sports City, began in the summer of 2017. The project included the installation of an L‑Acoustics loudspeaker system into the 85,000-seater National Stadium.
Sennheiser Electronics, L‑Acoustics, Asia, were first introduced to the KL Sports City concept in 2015. The company was subsequently invited to tender for the project, which had to satisfy exacting requirements for coverage and sound quality, while also adhering to strict limitations on structural weight loadings.
Sales Manager for L-Acoustics Asia, David Cooper said: "Sennheiser supported system integrator A.F.S. Engineering (Malaysia) by supplying a proposal and design for the tender bid that was based on L‑Acoustics products.
"By working closely with L‑Acoustics' application engineer Julien Laval during the process, they made sure they adhered to the weight restrictions while providing optimum SPL and intelligibility."
Using L‑Acoustics Soundvision 3D acoustical simulation software, the team devised a lightweight system by using a combination of L‑Acoustics Kara, Kiva II and ARCS WiFo loudspeaker cabinets for the National Stadium.
The extensive system comprises 18 hangs of six Kara, providing coverage for the outer ring, including the first and second tiers of seating. The inner ring consists of the third tier and uppermost bowl, that are catered for with a total of 256 Kiva II, configured as 32 hangs of eight each.
Under balconies on levels one and two are serviced by 136 5XT, whilst four hangs of four Kara each cover the field of play. The entire system is driven by a total of 77 LA4X amplified controllers.
A separate system was installed in the Axiata Arena, a 13,000-seat flexible indoor space located to the rear of the National Stadium, comprising of 36 Kara, 32 ARCS Focus and 22 ARCS Wide constant curvature line source cabinets, along with 12 SB18 subs to cover the upper balcony, driven by 32 LA4X amplified controllers.
The specifications for the weight loadings were updated several times during the tender process, which meant the team had to react quickly. Julien said: "At one point, we had just a week to submit a new proposal that would satisfy the change in weight restrictions."
"Using loudspeakers such as Kiva II and ARCS WiFo that have external amplified controllers is really useful in these situations, because we can provide a lightweight, weather resistant solution that also has an optimised cable path, which provides both scalability and cost effectiveness.
"Consultants acknowledge the superiority of this approach for stadium applications, but cable lengths are always a concern as there can be issues with signal degradation in lengths that are over 100m, impacting the overall performance of the system."
Julien added: "However, because L‑Acoustics has developed proprietary prediction tools, such as Soundvision, we can ensure the position of the amplified controllers to keep cable runs as short as possible.
"Being able to share this methodology with consultants and Certified System Integrators really helps to reassure them that the system will do what we need it to do. As well as providing the optimum solution, using Soundvision allowed the client to visualise the end result.
"Sennheiser Asia's on-site presence was also a big advantage. For example, we could make fine adjustments to the 5XT under-balcony speaker location up until the last stage of the integration.
"This level of project follow up could not have been achieved without clear communication and an extremely accurate room model used in our simulation," explained Julien.
"The venue is very happy with the system. The first big event held in the National Stadium was the 29th SEA Games and 9th ASEAN Para Games. Australian Rental Company Norwest provided additional ground stacked Kudos and KS28 subs, which integrated perfectly with the installed system and the event got great reviews all round for its sound quality," concluded David.