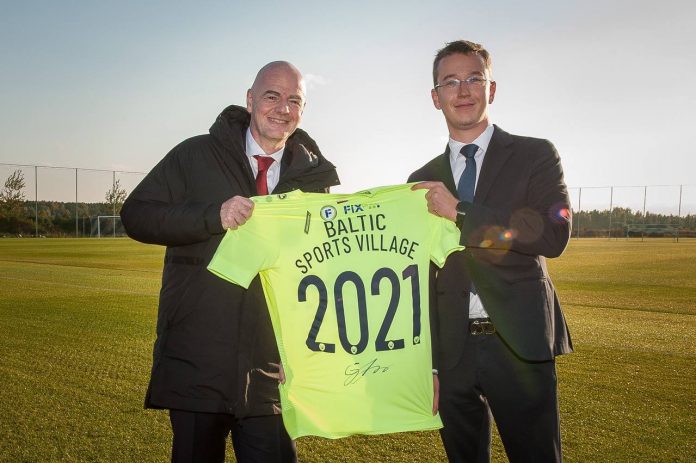 Baltic Sport Group, the co-operation partner of Riga Football Club (Riga FC SIA) and Baltic Sport Village – the sports infrastructure project in Piņķi – are collaborating with KSS, the leading European architecture and design practice of sports venues and facilities, whose leading architects and designers have worked on Anfield and the new AXA Training Centre for Liverpool Football Club, among others.
KSS believes that Latvia has the potential to become the leading Baltic state in providing elite football training centres and stadiums.
SIA Baltic Sport Group is developing what promises to be the largest and most modern private football sports base in the Baltics, with a construction cost expected to be €50m.
The base, named Baltic Sport Village, will be not only a training and game venue for both young and experienced Latvian athletes, but also a potential venue for holding competitions and training camps for foreign club members.
In the design and development of the infrastructure, Baltic Sport Group has engaged KSS, the leading European sports venue and facilities engineering and design company, which plans to complete construction of the stadium with a total of 61,000 seats by 2024, making it the fourth largest stadium in the Premier League.
KSS has also recently completed the new Leicester training centre project with a 180-acre masterplan and seven buildings, 14 full-size training grounds, a show area with a covered stand and a full-size covered area.
The KSS project in Piņķi is KSS' first facility in Eastern Europe, however, the company has completed several international projects, including in Le Havre, France, a stadium in Haifa, Israel, as well as projects in Slovenia, Belgium and Portugal.
"We are also pleased to have been involved in the design of Ahmed Bin Ali Stadium in Al-Rayyan, Qatar, which will be the main venue of the 2022 FIFA World Cup next year," added Andy Simons, Director at KSS.
In developing the conceptual design for the Baltic Sport Village project, KSS had several sources of inspiration, including the Krasnodar Stadium Park in Russia.
According to KSS, Latvia could become the leading Baltic state in providing elite football training centres and stadiums.
"These venues provide Latvia with the infrastructure for further development of both domestic and foreign talents. The development of projects such as Baltic Sport Village is the main starting point to help Latvia achieve this goal," said Andy.
Furthermore, KSS is convinced that Latvia has the potential to compete with the English Premier League teams.
"Latvian clubs such as Riga FC continue to compete in the UEFA Champions League and European League qualifying phases every year. In this case, it is truly possible that, in the near future, we will see a Latvian football club competing with an English Premier League club," concluded Andy.