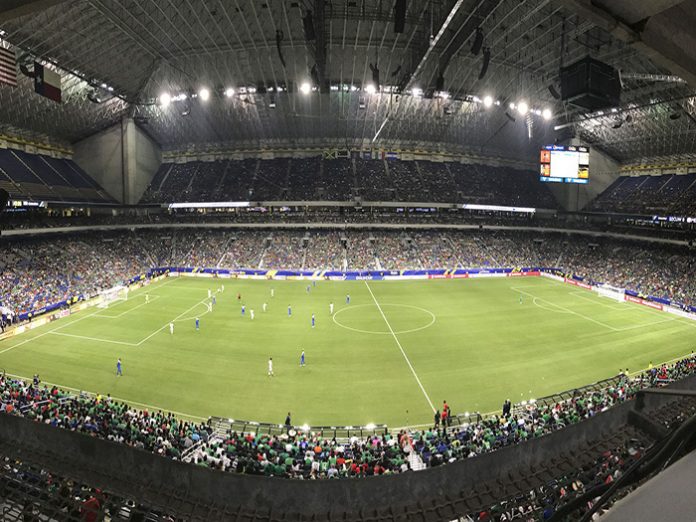 The Alamodome, the City of San Antonio's huge 65,000-seat multipurpose facility, is tasked with doing it all: it's used to host football, basketball, soccer, hockey, baseball and other events. But over the years, the sound requirements for contemporary collegiate and professional sports have only increased as the venue's original sound system, installed when it opened in 1993, was close to running on empty.
As part of a recent $60 million renovation project to modernise the venerable venue and make it more competitive with other top North American stadiums, the City of San Antonio called upon Dallas-based technology design firm Idibri to design a new sound system that would bring the Alamodome's aural experience into the 21st century. Idibri's primary objective was to deliver the high impact, high SPL and enhanced intelligibility now required in modern sports, including the raucous NCAA Final Four games, which will be played there in the spring of 2018 for the first time in 20 years.
Only one PA system was deemed capable of truly meeting all of the facility's diverse and intense needs: the L-Acoustics K2. Installed by LD Systems' integration division, the new system is now composed of 76 K2 boxes and a dozen KS28 subwoofers powered by LA8 and LA12AX amplified controllers, with fill support from X8 coaxials on the club level.
"The Alamodome is a huge venue with some very real acoustical challenges, but you still want to give every seat the same great experience," said Ray Givens, Sales Engineer and Project Manager for LD Systems, on the Alamodome sound system renovation. "The K2 lets us get excellent coverage and meet the SPL requirements of every game, including the Final Four—which will get really loud—without sacrificing speech intelligibility.
L-Acoustics sound systems has gained significant traction in sports venues in recent years, with new systems recently installed by LD Systems in the AT&T Center and Freeman Coliseum in San Antonio and Toyota Center in Houston.
"L-Acoustics is developing the same kind of reputation in sports venues as it has in live music," says Givens. "It puts the sound right in front of the fans in the stands, no matter where they're sitting. Upper bowl or lower bowl, you don't feel like the sound is coming from some distant place. It puts you right up close."
Ryan Knox, senior consultant at Idibri, points out that the Alamodome's new sound system designs began with modelling in L-Acoustics' Soundvision, the first 3D sound system design program capable of operating in real time. Beyond the main K2/KS28 arrays, the design was able to determine precise locations for the X12, X8 and 5XT speakers used to cover the under-balcony and suites areas, as well as hang points for any additional speakers needed for the Final Four and touring concert setups.
"The Final Four is unique in that it will bring in additional seating for the games," continued Knox. "But the K2 will cover that with the exception of a few small gaps that will be easily addressed with a few additional speakers. The K2 covers everything else all the time, including even the suites areas, which had been an issue in the past. And we had excellent support from L-Acoustics' team in terms of product delivery, design support and system commissioning. The K2 meets every expectation, and then some."