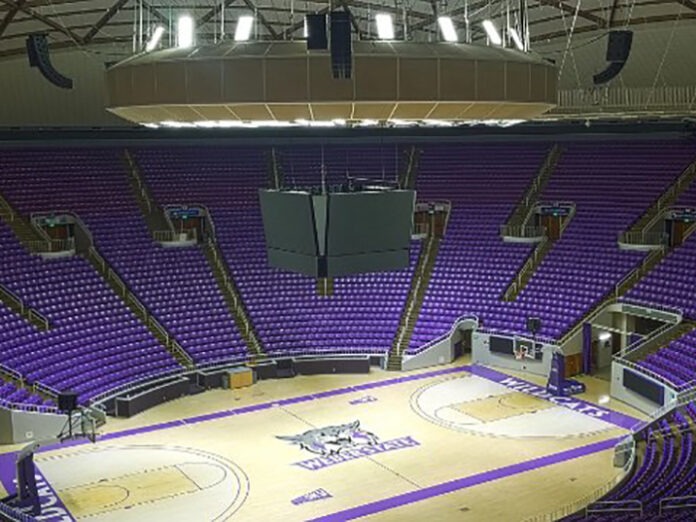 For more than four decades, the Dee Events Center (DEC) on the campus of Weber State University (WSU) in Ogden, Utah has served as the home court of the NCAA Division I WSU Wildcats men's and women's basketball teams and played host to many Big Sky Conference championship games. This summer, the domed arena welcomed its newest "player"—a brand new L-Acoustics Kara(i) loudspeaker system designed and installed by Salt Lake City's Poll Sound.
Capable of seating nearly 11,600 spectators in its circular bowl, the Dee Events Center is truly a multipurpose venue. It has also hosted its share of other college and professional sports, major touring concerts, commencements, religious and community events, and much more. Although the school has continually invested in various upgrades to the venue over the years, one thing that has remained unchanged for more than a quarter century has been DEC's sound reinforcement system, which had become decreasingly effective with time.
"The facility's previous sound system probably performed okay when it was installed back in the '90s, but 'state-of-the-art' has certainly changed a lot since then, leaving the Dee Events Center behind in terms of impact and intelligibility," said Poll Sound Owner Deward Timothy, who spearheaded the new L-Acoustics system design.
Deward noted that the old system was especially lacking with non-sports events where a stage is set up at one end of the court. "A centre hung array has a disadvantage in this type of setup, which is our usual scenario for ceremonies, speeches, main assemblies, graduations, small concerts, and so on. So we were given the directive to come up with a new design that would work well for both sports and stage events."
The Poll Sound team turned to L-Acoustics Soundvision design software to find the ideal solution for the venue. The result was a bowl system made up of 66 Kara(i) enclosures and a dozen SB18i subs. These are divided into six identical arrays of 11 Kara, plus two adjacent SB18, evenly spaced around the cloud and scoreboard above centre court and hung directly from the ceiling of the geodesic dome. For power, a dozen LA12X amplified controllers are split into four racks positioned around the cloud catwalk.
"We modeled a variety of loudspeaker configurations in Soundvision, and this arrangement of Kara arrays represented the best overall solution with the main considerations being consistent coverage, maximum SPL and intelligibility, weight constraints, ease of installation, and cost," said Timothy. He further adds that Kara has more than proven itself on numerous other Poll Sound NCAA arena projects, including the Brigham Young University Marriott Center and University of Utah Huntsman Center.
To meet the challenge of having audio originate from the stage, Poll Sound chose to specify the deployment of four medium-throw L-Acoustics Syva colinear loudspeakers, each seated atop a Syva Low enclosures on the stage floor for extended LF performance. "These provide the audio precedence and floor coverage, and delay portions of the main array back to the stage," Deward described. "This is easy to do because we can create coverage zones with the positioning of the Kara arrays; for example, those facing back to the podium and blocked off areas are not turned on when using the stage." All of this zoning and variation in setups is managed through presets that Poll Sound programmed into LA Network Manager.
Deward's team also supplied the facility with eight short-throw X8 coaxial enclosures for use as stage monitors and for frontfill as needed, plus three four-channel LA4X amplified controllers for power and processing.
Due to the pandemic, DEC hasn't hosted events since the sound system installation; however, it hasn't stopped the team there from being impressed with the new setup. "We have been very pleased with the coverage and clarity of the sound system at all points from the court floor to the top of the arena," said WSU Assistant Director, Event and Sports Facilities Mark Livingston, who has been with the school for 13 years. "When our current Director and I first heard Poll Sound starting to test the system from her office, it sounded so clear that we thought we were hearing the full system, when in fact, it was just the first line array that they had flown. Even that one array was outperforming our entire old system!
"This sound system has been one of the greatest upgrades I have seen for the university in my years with Weber State," he continued. "With 22 high school graduations and all the speaking events that we hold here at the Dee Events Center, this new L-Acoustics system is a major upgrade that will help the rest of the venue shine. We're also very excited to finally be able to tie touring concerts and performances into our sound system, which is something we've always had to hire out in the past. Both L-Acoustics and Poll Sound—especially Dan Salmond, who was the best project lead I have ever had the pleasure of working with—were amazing, going well above and beyond what we expected. We're so happy with what we're now hearing here at the Dee, and we can't wait for WSU Wildcats fans and our other patrons to experience it for themselves."