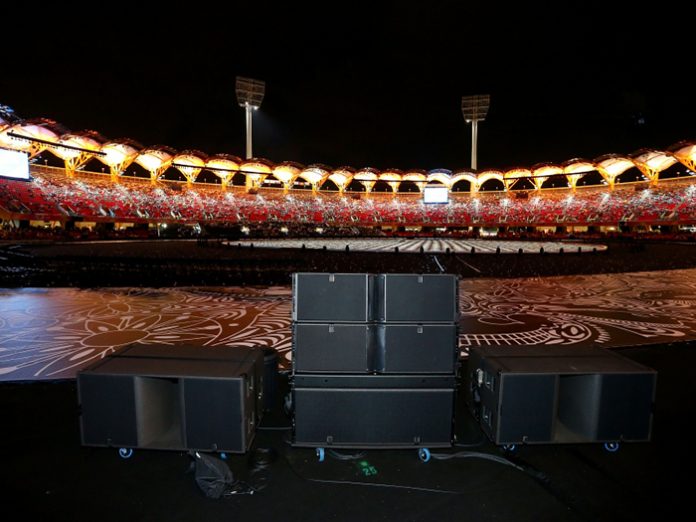 Norwest Productions, deploys L-Acoustics system for sporting ceremonies and venues, achieving even SPL and high intelligibility at Gold Coast's biggest ever sporting event this decade.
In one of the most exciting sporting events of 2018, and Australia's biggest for a decade, over 6,600 athletes and team officials from more than 71 nations and territories descended on Australia's Gold Coast to compete in the Gold Coast 2018 Commonwealth Games in April.
As crowds cheered thrilling finishes and record-breaking performances, highly intelligible commentary and full-range audio proved to be essential components of the sound reinforcement system for this landmark event. To achieve this epic outcome, audio production specialist and Official Sponsor, Norwest Productions, deployed over 500 L‑Acoustics cabinets, including 124 K2, in 22 sporting venues.
"With the Games being held in our backyard, we'd always set our sights on being involved," said Norwest's Gra Whitehouse. "But the Ceremonies audio project was an open tender, with all the usual pre-qualifying requirements, specifically around workplace safety processes and, of course, competency for the actual delivery of an audio project of that scale and nature. We knew we would need a watertight plan and some strategic investment."
With their eyes set firmly on the prize, at the end of last year Norwest Productions decided to add 370 L-Acoustics cabinets to its inventory, including a substantial K2 system, as well as K1-SB, KS28, Kiva II, SB15, ARCS WiFo, LARAK II and LA4X amplified controllers. The team knew this would help it build a compelling proposal for the project and give them a better than fighting chance of winning.
"Our investment took our national inventory to around 900 of France's finest and the results were superb," said Whitehouse. "Combining this new stock with our existing inventory of dV-DOSC, Kudo, and 12XT, we were able to put together a proposal that delivered almost all games systems as a single-brand solution, with the exception of some application-specific paging systems."
Norwest Production's foresight, along with their design and engineering knowledge and a lot of hard work paid off, with the company winning the hotly contested contract to supply the audio for both the Opening and Closing Ceremonies and the sporting venues.
Employed by the event's producers, Jack Morton Worldwide, Norwest then established itself as an event sponsor directly to the Gold Coast 2018 Commonwealth Games Corporation (GOLDOC), carrying the prestigious mantle of 'Official Audio Supplier to the GC2018 Ceremonies'. The sporting venues audio overlay was a separate contract, with Norwest sub-contracted by Sports Technology, headed up by Damian Rowe and his experienced project management team.
The remit for the entire contract was about achieving excellence for the spectator. Each audience member had to receive as near as possible the same SPL and high degree of intelligibility, with the additional requirement of catering to the full range of the Sports Presentation creative: high-impact play-on and play-off stings, background music, and audience warm-up commentary.
The Ceremonies system was designed by Norwest's in-house team of Ian Shapcott (Head of Audio) and Andrew Marsh (Head of Special Events) and comprised mainly ground-based arrays of K2 atop K1SB, flanked by KS28 subwoofers. The sporting venue systems were originally specified by Damian Rowe, who worked with Shapcott on the adjustments needed to suit Norwest's inventory, while remaining within the all-important brief, and made use of approximately 200 smaller format cabinets. Both teams modelled their systems with L-Acoustics 3D acoustical simulation programme, Soundvision, to ensure optimal coverage would be achieved.
However, partway through the design process, considerable changes were made to the main athletics stadium which was also to be used for the Opening and Closing Ceremonies. The rigging infrastructure needed to fly arrays over the enormous temporary Northern Grandstand was removed.
"Anyone who's been involved in an event like this knows that venues might change, rigging systems might adapt and evolve, as my budget," said Whitehouse. "It always presents a challenge, but there is always a solution. In this case, we decided to change our design to address the situation."
Taking a completely different approach, Norwest substituted a pole-mounted, distributed system of ARCS Wide in the northern stands to account for the lack of rigging infrastructure. Arrays were still flown where possible—specifically for the main grandstand and western stand—with ARCS WiFo and 12XT as additional fills. All K-Series cabinets were powered by LA12X amplified controllers, while the fill speakers used LA8, housed in distributed nodes around the field of play or in catwalks in custom, rain-proof tents.
Additional sporting venues deployed L-Acoustics small to mid-format line array speakers, with Rowe's designs typically utilising truss-mounted arrays of Kiva II, ARCS WiFo or dV-DOSC to cover the full height and width of the seating stands. Outdoor venues with no roof or rigging structures employed ground-based arrays of dV-DOSC atop dV-Subs. The outdoor venues with rigging structures, such as the Carrara Stadium and Optus Aquatic Centre, flew arrays of ARCS WiFo supplemented with 12XT mounted to the grandstand with specially engineered mountings. These systems were all powered with a combination of LA8 and LA4X amplified controllers. Finally, X8 coaxial enclosures were positioned in the highest reaches of the grandstands to fill the upper seating banks in the Aquatic Centre.
"The audio results were superb," concluded Whitehouse. "This was our second ceremonies event using our fleet of KS28 subs; they're truly a stunning unit. Like all L‑Acoustics products, they do so much more than simply produce a pleasing picture on the analyser; they're very musical. The K2 dolly and jack system makes for exceptionally quick deployment and recovery, a necessity when the team have less than 24 hours to turn an athletics stadium into a theatre. Using our existing systems combined with our K2 / K1SB system produced a simply wonderful end result, with great reports coming from all quarters."