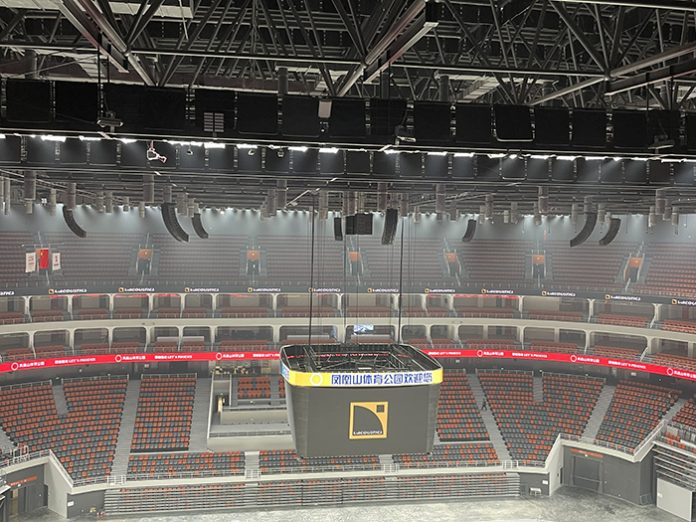 The 18,000-seat Chengdu Phoenix Mountain Indoor Stadium lies at the heart of the state-of-the-art Chengdu Phoenix Hill Sports Park. With an ideal design for global basketball, ice hockey, and other competitive games, the stadium will host the upcoming 31st World University Games and the 18th Asian Cup in 2023. In addition to hosting international and domestic sporting events, the venue is poised to stage live concerts, performance art shows, and high-profile product launches. The massive complex is a world-class events venue that will enrich the local Jinniu district community with a wide range of multi-cultural entertainment programs throughout the year.
Construction on the NBA-standard arena began in 2019, with audio and video technology design and installation awarded to China Radio, Film and Television Design and Research Institute (DRFT). Mr. Zhou Yaoping, Director of Engineering at DRFT, had worked with L-Acoustics and was confident in the brand's reputation for delivering world-class audio solutions for high-profile sports and touring projects. Mr. Zhou worked with local L-Acoustics Certified Provider, Rightway Audio Consultants (RAC), for technical support throughout the project. "On top of the superior precision and power of the L-Acoustics solution, we knew that we would also receive impeccable service from both RAC and the L-Acoustics Application team," he explains. 
Challenges to the sound design included VIP box areas with reflective glass surfaces and a centrally located 360° LED display screen, which would change positions depending on standard heights for the sport or optimal placement for live events. Systems Designer at DRFT, Ms. Zhang Xinyu used L-Acoustics Soundvision software to map the venue and test different sound system configurations to attain optimal coverage and SPL for the entire audience, regardless of where the LED screen is placed. "Soundvision was an excellent tool to help me experiment various design ideas," explains Ms. Zhang. "It allowed me to find the best speaker configuration for optimal performance, taking all screen placement options into account." Settings for each event type are pre-calculated and can easily be recalled by venue operators in LA Network Manager.
The final system installation was led by Mr. Li Daojun, Senior Engineer at DRFT. The main system consists of eight arrays, each comprising six L-Acoustics A15i Focus and one A15i Wide, hanging from the roof in an oval shape above the LED display to deliver 360-degree coverage to the audience. A cluster of four hangs of three KS21 subwoofers each, flown in the middle, ensures low-end rumble. Under the display cube, four L-Acoustics X15 HiQ act as monitors for athletes on the court. The whole system is driven by 22 LA4X amplified controllers.
Senior Engineer Mr. Li praises the support DRFT received from RAC and L-Acoustics. "We were able to call upon experienced application engineers at any time during this three-year project, in turn ensuring that we provided the end user with a comprehensive run-through of the operating system" he says. 
Mr. Li added: "The flexible A Series system was the right solution to a complex brief. Chengdu Phoenix Mountain Indoor Stadium and the technical team are now ready to serve quality sports and entertainment programming to the dynamic Jinniu community."
Similar sentiments were echoed by Mr. Liu Heming, Deputy Technical Director of Chengdu Chengtou Vanguan Sports Culture Development Co. Ltd., the company in charge of technical operations of the arena: "On testing day, the overall sound in the arena amazed me. Not many sporting venues possess a sound system of this calibre. Now my team has the right tools and resources to perform at the high technical standards of world-class events."