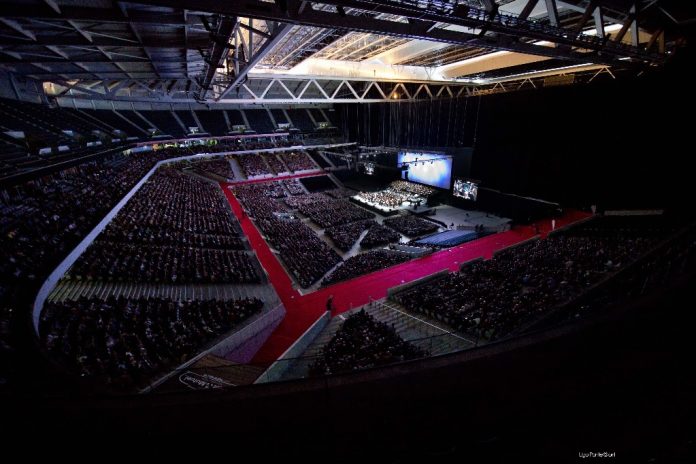 On July 12th at Lille's Stade Pierre-Mauroy, L-Acoustics deployed an L-ISA Live hyperrealistic sound system for the singular performance of Verdi's Requiem by the Orchestre National de Lille (ONL) and the Choeur Régional Hauts-de-France. The 30,000-capacity stadium, normally home to Lille's football club was a spectacular yet fitting venue for a performance intended to bring classical music to the widest possible audience.
Founded by Jean-Claude Casadesus and the Nord-Pas de Calais region (now the Hauts-de-France region) in 1976, the ONL has resolutely focused on 'bringing music wherever it will be heard' ever since, performing both in Lille as well as in over 30 countries around the world. After spending 40 years at the head of the ONL, conductor Jean-Claude Casadesus continues to lead three series each season while also forging a stellar international career.
For this special stadium performance of Verdi's masterpiece, François Bou, managing director of the ONL consulted L-Acoustics founder Christian Heil. The L-Acoustics team custom-designed an L-ISA immersive sound system to face the hurdle of delivering the power of a world-renowned orchestra to the entire audience, all while preserving the emotional and artistic intensity of the performance. Central to the system's design is the desire to deliver 'what you see is what you hear' to each spectator at the Stade Pierre-Mauroy, effectively putting the audience into the sweet spot occupied traditionally by Jean-Claude Casadesus himself.
"Our challenge was to put on a classical music performance for 13,000 people in a football stadium but make it sound like an acoustical performance in an intimate venue", explains ONL Front of House engineer François Gabert, who worked with Frédéric Blanc-Garin, sound engineer for the project. "When L-Acoustics told us that they had a product that could dramatically improve the experience for the audience, Fred and I were intrigued."
L-ISA, which stands for Immersive Sound Art, is a breakthrough in immersive audio technology combining L-Acoustics' industry-leading sound design and world-class loudspeaker systems with sophisticated processing tools to create a hyperrealistic soundscape at live shows.
Sherif El Barbari, L-ISA Head of Applications, studied the Stade Pierre Mauroy closely, modelling it in L-Acoustics' Soundvision software before proposing an L-ISA system comprising seven hangs of nine Kara stretched across the stage, to deliver hyper-localised sound. A mirror system of seven ground stacks of two Kiva II each across the stage lip provided front fill. Two hangs of eight K2 served as out fill and two central hangs of four KS28 subwoofers provided low end. The entire system was driven by LA8 and LA12X amplified controllers. An L-ISA Controller provided an advanced object-based multichannel environment for the event. "We found the L-ISA controller very simple to use," François says. "The interface is intuitive and very functional. Once the sources are placed in their space, the mixing is fairly conventional and any adjustments within the software during the concert were quick and easy."
It was, however, the clarity and natural feel of the sound which most impressed François, "The greatest compliment that I could receive would be for someone to ask me after a concert if there was any sound reinforcement," François continues. "Given the results we obtained at the Stade, I'm convinced that in a more traditional environment, the audience wouldn't know that there was any sound reinforcement at all."
"We are proud to be working with Jean-Claude Casadesus and the Orchestre National de Lille again," enthuses Christian Heil, founder and president of L-Acoustics. "We are excited to have deployed our newest creation to help them offer an authentic and immersive concert experience." Francois says that, having experienced L-ISA, going back to using any other system would be "heartbreaking". "It is an indispensable tool for classical music, opera and large ensembles," he says. "I look forward to working with L-ISA again and deepening this experience. L-ISA has a bright future ahead."