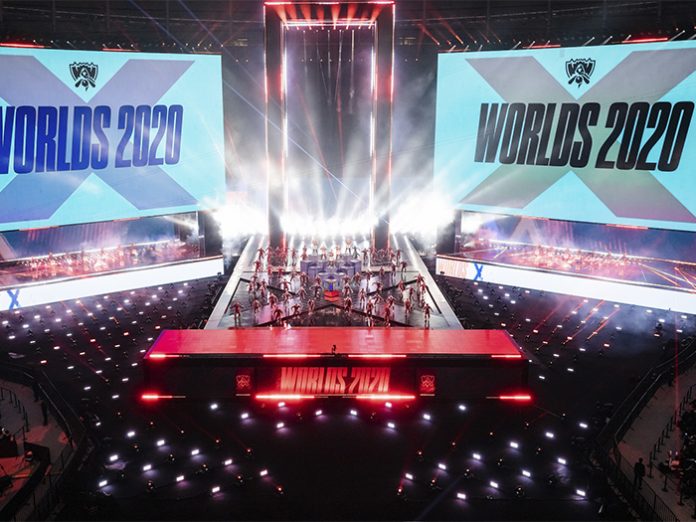 The World Championship (Worlds) is the crowning event of Riot Games' League of Legends. Last year, like many other productions, the world's most watched esports event migrated to the virtual realm and was broadcast live for over 240 hours using the most advanced and pioneering XR (Extended Reality) and MR (Mixed Reality) technologies, relying heavily on Brompton's Tessera 4K SX40 LED processors to ensure perfect image reproduction on its LED video set.
League of Legends tournaments have traditionally featured a host country, with teams touring different cities for each round of the games. However, with the challenges posed for both travel and live audiences, Possible Productions, a creative developer agency that has been working with Riot Games since 2016, looked for a solution that would give a sense of evolution to the tournament while broadcasting the entire production live from Shanghai.
"The key challenge that Riot presented us with was extending the feeling of campaign throughout the entire month of the tournament without physically bringing people to different locations," says Michael Figge, Creative Director at Possible Productions. "It quickly became apparent that in order to bring different places to us, we needed to build a highly advanced extended reality stage that would sustain hundreds of hours of live broadcast of mixed reality content."
With an incredibly tight schedule, Possible Productions put a crack team in place, including those that had worked on the Disney+ The Mandalorian TV series, and Riot's engineering partner, Lux Machina, who supplied top-quality equipment including ROE Visual LED panels and Brompton Tessera processors.
"When choosing products to put into the stack for this year's Worlds, we did not have the luxury of time," says Wyatt Bartel, Senior Technical Director at Lux Machina. "With a compressed schedule and COVID regulations in front of us, we had to choose known, high quality products, that would without doubt meet the needs of production."
As pioneers in the Virtual Production space, Lux Machina has consistently turned to ROE's Black Pearl 2.8mm LED tile powered by Brompton processing. "From Disney's Mandalorian to Riot Games' League of Legends Worlds, these products have not let us down," adds Bartel.
A giant soundstage, wrapped in LED screens, not only allowed for adequate social distancing for the players, but also offered plenty of scope for the Possible team's creative ideas. The final setup was a massive powerhouse of over 1,000 ROE tiles, displaying visuals at 32K resolution and 60 frames per second, made using a modified version of Unreal Engine.
"ROE Black Pearl 2.8mm panels were used for the walls and ROE Black Marble for the floor. The overall size of the volume was 16.5m wide by 17m deep and 4.4m tall, all running on Brompton Tessera 4K SX40 LED processors," continues Michael. "Whenever you're doing an event of this scale and using such a large number of LED tiles, it's hard to ensure they're all from one batch, so it's necessary to have the ability to do a degree of adjustment. Tessera's On Screen Colour Adjustment (OSCA) feature is ideal for that."
The SX40's ability to interlock with a specific frame rate is also particularly useful for XR applications. "The camera conveys the field of view required to our system and re-projects that field of view back onto the LED. But in order for the illusion to work, the LED has to be in sync with the cameras. The SX40 is the key to making that magic effect happen," says Michael. "This was the largest version of a mixed reality stage ever deployed and, in terms of technology, the most advanced mixed reality stage that's ever been built, with two cameras running simultaneously, allowing the team to swap between two simulated perspectives, and four cameras to shoot the action on set, all happening live."
Additionally, the team used multiple camera frustums all set as windows on the LED wall to deal with the delay that would sometimes occur when switching between different camera perspectives. To the broadcast audience, this meant a smooth transition between watching the players sitting at their desks playing and seeing how the LED soundstage would transform itself into an expansive fantasy world that stretched way beyond the LED screen thanks to the AR technology.
The result was spectacular, and fans were thrilled with the experience. Even without the roar of the crowd in the early stages, the prestige of the event was conveyed to the at-home audience.
"Some thought that Worlds 2020 would be a Zoom kind of tournament," Michael concluded. "Nothing could be further from that, as we were able to convey a sense of prestige to the at-home audience to show that this is a product that people look after and care about and fight for regardless of what the situation is.
"The behind-the-scenes work was highly challenging and complex, but the viewer experience was engaging and seamless. Our collective determination delivered the extended and mixed reality live event of this season. This was in no small part thanks to Brompton processing, which ensured accurate scaling and colour, so the LED screens looked flawless."