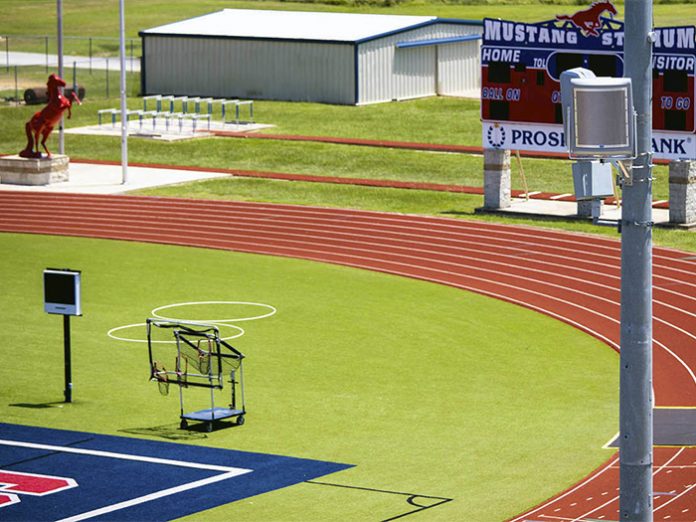 It was over two years ago that Dallas-based music store and AV integration specialist Romeo Music designed and installed a fully-weatherproof Danley sound reinforcement system to cover Madisonville High School's baseball and softball fields. The project was a huge success. Not only does the system sound intelligible, punchy, and musical, but Danley's weatherproof options have made the system resilient in the face of east-central Texas's humid, stormy climate. Thus, when the aged sound reinforcement system at Madisonville High School's 3,500-capacity football stadium was no longer acceptable, the school again turned to Romeo Music and Danley Sound Labs.
"They love the baseball/softball system, which uses four fully-weatherproof Danley OS12CX loudspeakers," explained Kevin Deal, regional sales manager with Romeo Music. "Their football stadium's old horn system was on the fritz, and they could no longer justify limping along with it. They needed something powerful, clear, and modern to convey announcements with intelligibility and to deliver music with the kind of impact that heightens the game-day experience. Of course, the new system would have to stand up to Texas weather as well. We felt that another Danley system would meet and exceed Madisonville's needs on all those scores."
Deal worked with Danley's regional rep, Anderson Sales and Marketing, and Kim Comeaux, Danley's western sales manager, to arrange a Danley demo for the football stadium. "Even in a situation like the one at Madisonville High School, where we have a satisfied client who is familiar with the product, I still like to do a demo, if only for the sake of due diligence," Kevin explained. "It allows the client to picture that exact system in that exact scenario. In this case, there was an additional consideration; the football stadium, unlike the baseball/softball field, would need subwoofer support. I wanted them to hear the subwoofers' contribution to the overall impact. Kim is based in Houston, so it was just an hour drive for him."
The demo was a success and Romeo Music received the go-ahead a week later. Deal designed a straightforward system that uses five fully-weatherproof Danley OS80 full-range point-source loudspeakers and two Danley TH118XL subwoofers with optional Aqua Tight weatherproofing. The OS80s are mounted to lighting poles on either side of the tall home-side stand. Two OS80s point backward to cover the home-side stand; two more fire across the field to cover the visitor-side stand; and the fifth OS80 fires at an angle to cover the concessions area. The Danley TH118XLs thunder from below the home-side stand. A single 20,000-Watt, four-channel Danley DNA 20k4 Pro amplifier, with onboard DSP, powers the system and delivers the modest, model-specific processing to make the already-neutral Danley loudspeakers and subwoofers shine.
As with the baseball/softball field system, Deal gave the Madisonville High School staff wonderfully simple controls with a Xilica Solaro QR1 processor and touch panel. Users simply mute/unmute the various input sources, including microphones and a Bluetooth player, and adjust their volumes within a reasonable range.