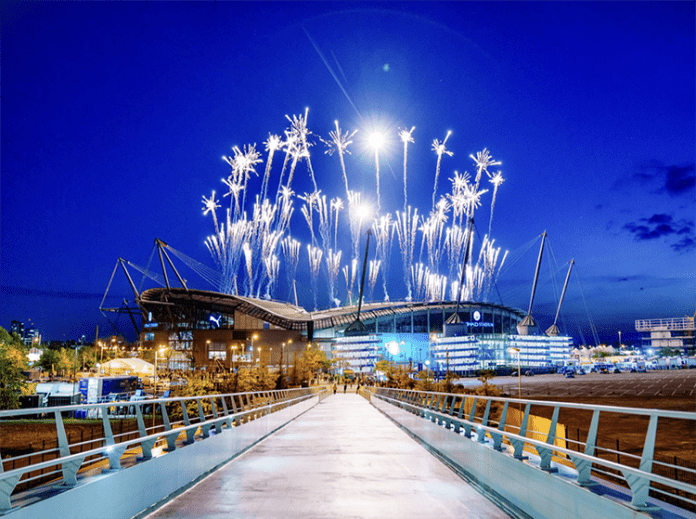 MONDO | STADIA is, once again, delighted to be a media partner for ALSD International 2023, which is being hosted at Manchester City FC's Etihad Stadium on October 9th and 10th, with an opening night icebreaker set to be held at Emirates Old Trafford, the home of Lancashire Cricket, on October 8th.
Focused on optimising revenue through New Builds, Renovations and Service Expansions, ALSD International is the preeminent entity for the Premium Seat and Hospitality sector outside of North America, where ALSD has been leading the industry for the last 30+ years.
The high-level conference and exhibition focuses on core pillars of architecture & design, catering & concessions, fan experience, hospitality, fit-out & procurement, premium seating, sales & service, technology and sustainability, with venue tours highlighting these areas.
This year's edition will be complimented by a Fan Experience breakout, being delivered by IIFX (Innovation Institute for Fan Experience), with a focus on Safety, Security & Operations, as well as the inaugural Tech Symposium, bringing visionaries and thought leaders together to share premium and technology innovations.
Confirmed speakers to date include: Nick Sautner, CEO, Eden Park Stadium, Matt Botten, Senior Director, Premium Seating, The O2/AEG, and Andy Price, Commercial Director, Ticketing & Arenas, NEC Group, all of whom will be sharing insights on the latest developments at their respective venues.
Cardiff International Arena/Live Nation, Etihad Arena (Abu Dhabi), Club Wembley/The FA, Channel 1 Media, Ipswich Town FC, National Ice Centre & Motorpoint Arena Nottingham and the AFL's West Coast Eagles are just some of those having already confirmed their attendance.
Katie McIntyre, Executive Director, ALSD International, said: "As Britain's second city and the capital of the North, Manchester boasts a thriving football scene – home to the Premier League's Manchester City and Manchester United – and iconic sports and entertainment venues, the AO Arena and Emirates Old Trafford. With the highly-anticipated Co-op Live set to open within the coming months, the city is the ideal location to host the industry's leading event."
ALSD International is more than just the most credible sports and entertainment business conference, having ushered in a year-round membership offering; working 365 days a year on members' behalves, providing content and engagement with peers in sports and live entertainment in Premium, Design & Build and Technology.
McIntyre added: "We embrace each part of the ecosystem that works together to elevate the fan experience, bringing it all together in a platform where our members can share best practice and stay ahead of industry trends. As we like to say, "It's All Connected"."
ALSD International is organised and delivered by Sports Venue Business on behalf of the ALSD (Association of Luxury Suite Directors).
"I found the event really interesting and efficient; an excellent opportunity for discussion and sharing ideas." – Mirko Cucchiarelli, AS Roma.
"I love ALSD. For us, it's a competitive intelligence gathering process, we like to understand what other venues are doing. It offers compelling content and delivers lots of great conversations." – Christian Lau, Los Angeles Football Club & BMO Stadium.
For further information, go to: https://alsdinternational.com