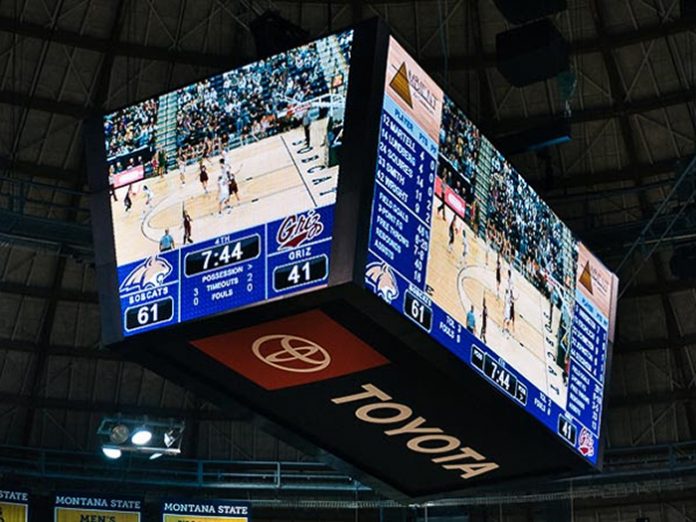 When Montana State University Bobcat fans returned to Brick Breeden Fieldhouse in Bozeman, Montana, they were greeted by a new LED video board configuration designed, manufactured and installed by Daktronics of Brookings, South Dakota. The installation took place this fall to bring new visual elements to Bobcats basketball games and other events.
"We are committed to delivering a first-class experience for all fans that enter our facilities," said Leon Costello, Montana State University's director of athletics. "Our partnership with Daktronics has greatly enhanced the game-day atmosphere and in-venue experience by providing high-definition video and digital elements on our new centerhung LED displays."
The two sideline-facing video boards each measure approximately 9.5 feet high by 23 wide and the end-facing video boards measure 9.5 feet high by 11.5 feet wide. All four displays feature six-millimetre line spacing to provide crisp, clear imagery with wide angle visibility to appeal to every seat in the arena.
"This installation brings a great new view to every event held at inside Brick Breeden Fieldhouse," said Brady Jacobsen, Daktronics regional manager. "It allows for greater detail and many ways to brand the university's events. We're proud to partner with them on this project and look forward to these displays having a positive impact for years to come."
The displays can each show one large image. Each can also be divided into multiple zones to share any combination of live video, instant replays, up-to-the-minute statistics, graphics and animations, and sponsorship messages.
Shot clocks, game clocks, locker room clocks and backboard light strips were also included in the installations to prepare the venue for basketball games and other events.