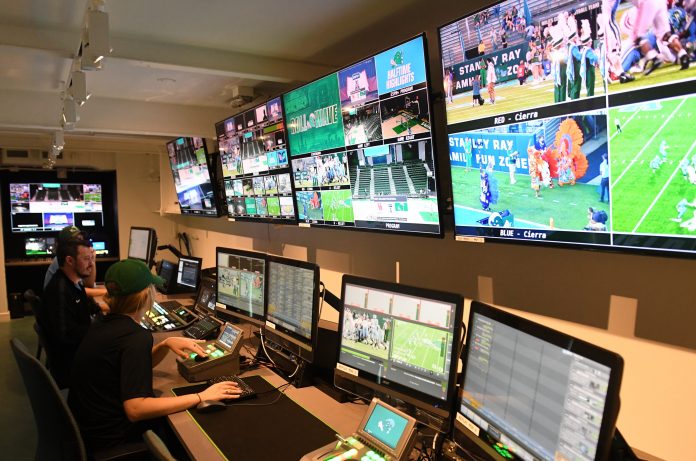 With an enrollment approaching 15,000 students, Tulane University offers a wide range of degree programs encompassing architecture, business, law, liberal arts, medicine, and more. The university also has an ambitious athletics program, and to provide better coverage for their athletic activities, the university recently invested in a centralized control room, known as the Tulane Athletics Central Control Facility. As part of the efforts to ensure trouble-free connectivity and provide optimum performance for the cameras and other equipment, much of the cabling between the control room and the sports venues now employs opticalCON® DRAGONFLY fiber optic connectivity from Neutrik.
Baton Rouge, LA-based Technical Services Group, Inc. (TSG), a design/build firm that provides industry-leading audio video systems integration, installation, and support, was contracted to design and deploy the new setup for the Tulane Athletics Central Control Facility. TSG's Jason Martin (A/V – Broadcast Sales & Engineering), was actively involved with the project throughout its design and implementation. TSG relied on Joseph Electronics to help customize the fiber needed for the project. He discussed the challenges of the job.
"Technical Services Group was contracted to design and install a state-of-the-art central control facility to enable ESPN+ broadcasts using a combination of local freelance talent and student workers," Martin reports. "The facility would need to support the university's three major sports venues— Greer Field at Turchin Stadium (baseball), Avron B. Fogelman Arena in the Devlin Fieldhouse (basketball/volleyball), and Yulman Stadium (football)—allowing for multiple simultaneous events to be produced from a single control room."
The fact that control room operations would typically be managed by students and freelancers resulted in the need for simplicity of operation and a high degree of reliability. With many fiber optic environments, dirt can wreak havoc in terms of interconnectivity among equipment. While professionals may be accustomed to addressing such challenges, this would not be acceptable in a student environment, and this is precisely what led to the decision to deploy Neutrik's opticalCON® DRAGONFLY fiber optic products, which would be used with Panasonic cameras.
Neutrik's DRAGONFLY series offers advanced lens technology for broadcast and AV applications—ensuring robust, reliable connectivity that is easier to maintain than common hybrid camera signal transmission systems. With technology based on fiber lenses and fusion splicing, DRAGONFLY achieves an extremely robust signal with minimal loss. Its fusion splice high-performance lens transmits UHD 4K and 8K signals with very low loss, as the signal surface of the XB2 lens is 322 times larger than physical contact surfaces. This further results in low insensitivity against dust and dirt. 
Martin shared some perspective on why Neutrik's DRAGONFLY is also such a good choice for system integrators, "For someone like myself, the benefits of DRAGONFLY include the same basic form factor as SMPTE connectors, the ability to handle more voltage, and the fact that the various connectors have a robust 'feel' that is also easier to unlock than many competing connectors."
In addition to Neutrik's DRAGONFLY system, the Tulane Athletics Central Control Facility also uses five Neutrik NA2-IO-DPRO units. The NA2-IO-DPRO is a 2IN, 2OUT breakout box designed to connect legacy audio equipment with a Dante® network. It features high-quality microphone preamps and 2 Dante ports for either redundant setup or daisy chaining. Audio parameters are adjusted either by Neutrik's DPRO controller or via control software. According to Martin, "They absolutely love these breakout boxes. They like the ability to control the DPRO units from their Yamaha mixer—and the DPRO form factor is, by far, the best."
The Tulane Athletics Central Control Facility has been using Neutrik's DRAGONFLY connectivity since August 2021 and Martin reports that the system has delivered everything and more than they had hoped for. "The system has been up and running since August and they have not had to clean a single cable assembly. Equally important, there have been zero problems with cameras not being able to connect. Simply put, Neutrik's DRAGONFLY system has been terrific." 
Andrew Alvarez, Assistant Athletic Director, Video & Broadcasting for Tulane University, echoes Martin's enthusiasm, "The dragonfly cables have been great. With our staff producing over 75 events each year for ESPN, in-venue board shows and to other partners, reliable fiber connectivity to our cameras is vital for a smooth workflow. We've never had to even clean a dragonfly cable yet, it just works."