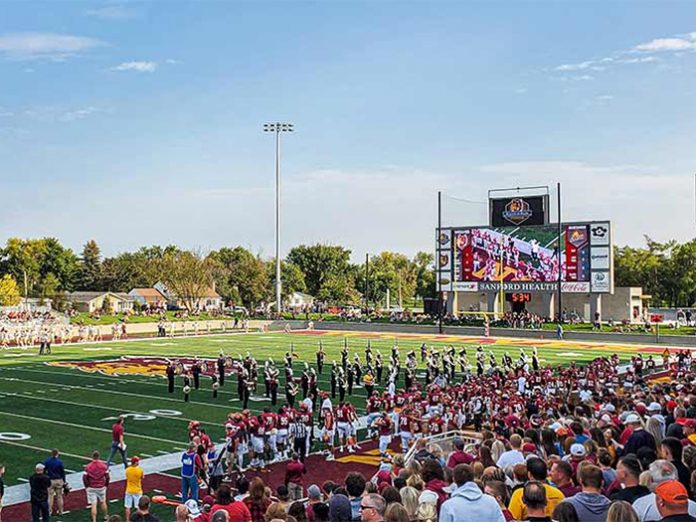 When Northern State University (NSU) Wolves fans welcomed football to campus for the first time at the new Dacotah Bank Stadium in Aberdeen, South Dakota, they saw a new audiovisual system from Daktronics. The new video board and audio system was installed this spring before the football schedule kicked off.
"We're excited to bring a whole new fan experience to the campus of Northern State University, and we're proud to have South Dakota contractors, like Daktronics, help provide the equipment and resources that enhance our game-day experience," said Justin Fraase, vice president of enrollment, communications and marketing at NSU.
The new video display measures 23 feet high by 59 feet wide bringing excellent image clarity and contrast to fans throughout the stadium. The display also features industry-leading environmental protection to ensure the display runs as expected on game days. The entire scoreboard structure will measure 42 feet high by 76 feet wide to bring fans all the video and scoring information they crave.
A Sportsound 2000HD audio system was integrated with the video and scoring system to provide full-range sound reproduction and intelligible speech. It will provide the powerful audio experience that fans, players and coaches expect at live sporting events.
"We're honoured to help bring football to NSU's campus for the first time in school history," said Tony Mulder, Daktronics regional sales manager. "This installation will bring added excitement to every event and will complement the previous installations for the university's technology Daktronics installed for soccer and basketball as well as the new scoreboard being installed at their softball field. They've been a fantastic partner and we're looking forward to seeing many football games on campus for years to come."
The video display is capable of variable content zoning which allows it to show one large image or multiple zones of digital content. It can share any combination of live video, instant replays, up-to-the-minute statistics and game information, graphics and animations, and sponsorship messages.
In addition to the equipment installation, Northern State will also receive a content package that will be produced and delivered by Daktronics Creative Services.
In 2019, Daktronics installed new LED video technology at NSU's Barnett Center and Wachs Arena including the largest collegiate centerhung system in the state of South Dakota.
Daktronics has grown with the sports industry from the company's beginnings in 1968. Today, the company has LED video display installations at hundreds of colleges and universities across the United States.