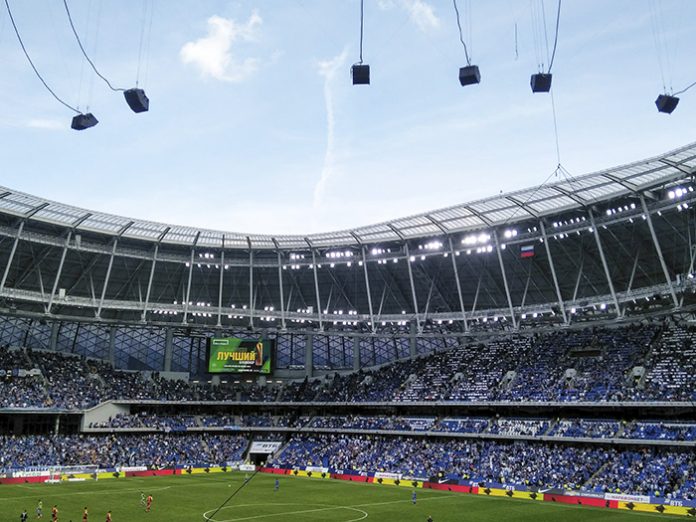 When Moscow's Dynamo Stadium was closed for demolition in 2008, the city turned its focus to the design and construction of a new multi-purpose facility that would better fit the metropole's growing need for a state-of-the-art sports and entertainment complex.  Opening its doors this year, the new VTB Arena includes the 26,000-capacity Central Dynamo Stadium, dedicated to football, and the Universal VTB Indoor Arena, a 13,000-capacity ice hockey facility. Both venues needed a sound system that could deliver power and quality for sporting events and entertainment alike.
Russian L-Acoustics Certified Provider Distributor Sonoruss was tasked with the challenge of designing and installing a PA that would not interfere with any other engineering systems, intrude on important video angles, or obstruct any view of the stadium's large LED screens.
Alexander Ananyev is the Acoustic Engineer at Sonoruss: "While both venues have clear primary uses, they are also multipurpose facilities and have to cater to other sports and other events, such as rock concerts and large-scale entertainment dates. We needed to ensure that there was uniform coverage, high SPL and the very best audio clarity possible."
Using L-Acoustics Soundvision acoustic simulation software, Sonoruss proposed several designs for the main stadium PA, but some way into the process the facility's roof design was substantially changed, so Sonoruss had to go back to the drawing board: "We  proposed all-new system designs that included electro-acoustical calculations, architectural visualizations, and evaluations by external agencies," noted Alexander. "After lengthy negotiations and detailed analysis, the customer chose a solution based around the A Series medium throw range for the football stadium, and a K Series long throw configuration for the ice hockey arena."
The main Central Dynamo Stadium is the home of Russian football club FC Dynamo. It officially opened its doors on May 26th for the closing game of the 2018–19 Russian Premier League between FC Dynamo Moscow and Arsenal Tula.
The PA for that space consists of 62 ARCS II in 26 arrays located around the pitch-side edge of the roof canopy for coverage of the lower seats, 26 ARCS Focus and 45 ARCS Wide in 29 arrays in delay positions further under the roof for the upper seating, and 30 5XT and 70 X8 short throw enclosures at suite level for the under-balcony spaces.
The indoor Universal VTB Arena has a more varied programme. Its main focus is ice sports, but it also hosts mixed martial arts, boxing, basketball and entertainment events throughout its schedule. It hosted its first ice hockey game for resident team HC Dynamo Moscow in January 2019.
For that system, Alexander specified  L-Acoustics K2 line arrays. A total of 54 cabinets in six hangs flown around the central scoreboard location provide coverage of the bowl audience seating. Eighteen ARCS Focus in six arrays of three are distributed evenly around the grid, to cover the bowl floor for sporting events where this is a requirement.
He is very pleased with how both solutions are performing and has received extremely positive feedback from the client: "We have succeeded," he stated, "In creating a PA system that completely meets every one of the customer's requirements.
"A high-quality sound system is a must for a successful modern sports complex.
L-Acoustics technologies are powerful, lightweight and always form an aesthetically pleasant solution – something that was very important for the client in this instance," concluded Alexnder. "The L-Acoustics sound system at VTB Arena is an integral part of the audience experience."