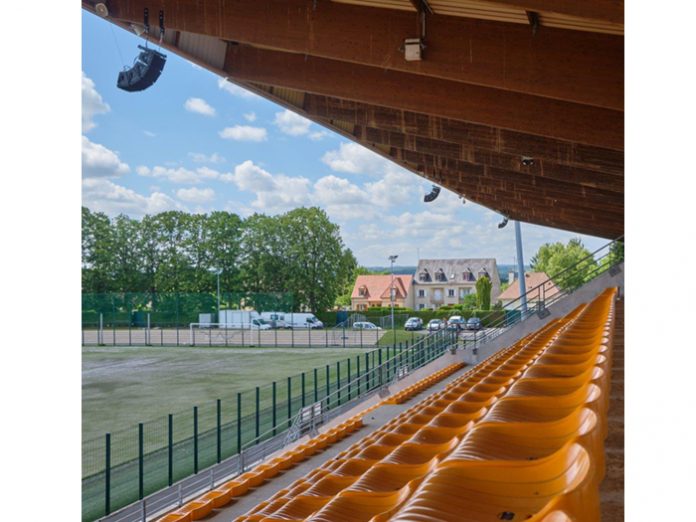 NEXO's GEO M10 Series mid-size line array makes its debut in the sporting world, as part of a new fixed-installation sound system for the Stade Pierre Brisson in Beauvais, just north of Paris. Systems integration company Vidélio has worked closely with NEXO's in-house engineering team to design, specify and install the system, which will greatly enhance the match experience for 10,000 fans.
The Stade Pierre Brisson is a multi-use facility, primarily hosting football matches, and serving as the home ground for AS Beauvais Oise FC. Neighbouring club Chambly FC, which has recently won league promotion, is sharing the stadium as its own ground is not yet registered for Ligue 2 games.
The stadium is able to hold 10,178 spectators, in West and East facing grandstands. The time had to come to replace the aged entertainment PA system, and, from the very first origins of the project, it was clear that the GEO M10 from NEXO was going to be the obvious solution.
"It was clearly the best solution for their budget," explained NEXO Engineering Support team member David Hochstenbach, who provided the design for Stade Pierre Brisson. Conveniently, NEXO's factory and international HQ are only an hour down the road!
As the venue already has a fire and safety VA system, the NEXO GEO M10's purpose was to provide entertainment and commentary for the matches, as well as the lucrative broadcast of local advertising.
The loudspeaker installation, identically matched in the east and west stands, uses eight clusters, each with 4 modules of GEO M1025 with 120° dispersion. Fixed in the roof at an average height of 9 metres from the ground, the GEO M cabinets are throwing over a maximum distance of 15 metres, to cover the audience grandstands. Two additional clusters, each with 3x GEO M1012 modules, provide coverage on the pitch.
The system uses two zones, one for each grandstand, and there is an amp room on each side. Running through a single control room, the signal is under remote control using NEXO's proprietary NeMo system and the NEXO NXAMP Mk2 network. "One of the main benefits for the technical team is that the NeMo recorded log provides real-time diagnostic monitoring of the system," explained David Hochstenbach.