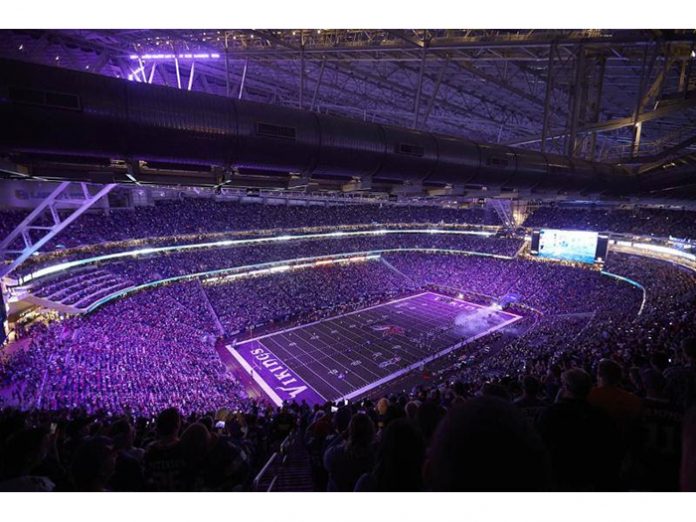 Power management company Eaton announced that the 4 February 2018 New England Patriots vs Philadelphia Eagles football championship game at the U.S. Bank Stadium will be the second ever match to utilise Eaton's Ephesus LED sports lighting and controls system.
The game is the first of three consecutive professional football championship games to use Eaton's Ephesus LED sports lighting. Mike Lorenz, president at Eaton's Ephesus Lighting business, commented: "Our success at University of Phoenix Stadium and the attention our LED lighting solution – received for its performance during the world's biggest sporting event – truly changed the perception of LED sports lighting from a rookie to a primetime performer.
"At that time, just a handful of professional sports venues and only one football stadium had made the switch to LED lighting. Today, more than one-third of the four major professional sports venues and thousands of other facilities of all sizes employ an LED lighting solution."
The capabilities of Eaton's Ephesus LED sports lighting system allow building operators to completely darken the stadium, turn on lights and display light shows to enhance the pomp and circumstance; including the player introductions, the national anthem, and Justin Timberlake's halftime show.
Two of the past three college football championship games, including the 2018 Alabama-Georgia game in Atlanta, were also played in stadiums with Eaton's Ephesus LED sports lighting. Three of the four college basketball championship games played between 2017-2020 will also be at venues with this system.
Hundreds of facilities have made the switch to Eaton's LED sports lighting system including: University of Phoenix Stadium (Arizona Cardinals); Hard Rock Stadium (Miami Dolphins); PNC Park (Pittsburgh Pirates); Bridgestone Arena (Nashville Predators); and Martinsville Speedway in Virginia.