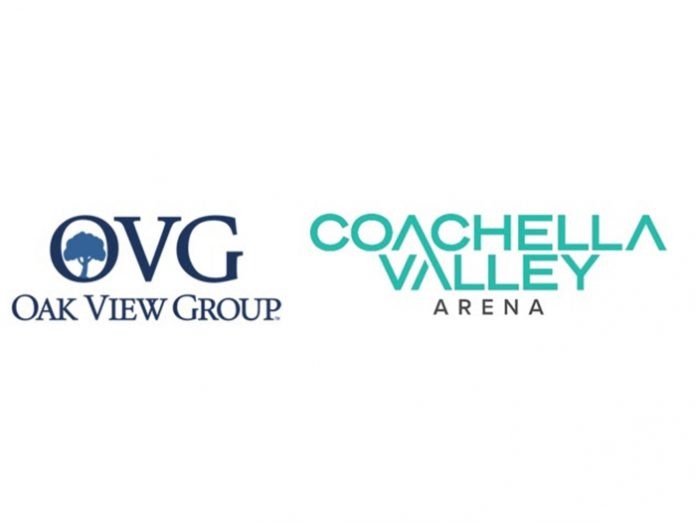 Oak View Group (OVG) has appointed of three executives at Coachella Valley Arena. Joining OVG is JoAnn Armstrong as vice president of programming, Joyce Szudzik as vice president of marketing, Ruth Hill as vice president of finance. All will be based in Palm Desert and report to John Bolton, senior vice president of entertainment – facilities (OVG) & general manager, Coachella Valley Arena.
"As we continue to build a world-class arena in the Coachella Valley, we're committed to hiring the best industry professionals to lead us forward," said Bolton. "I am very pleased to officially welcome each of them to our team."
As vice president of programming for Coachella Valley Arena, JoAnn, a lead industry veteran, will be responsible for strategic content programming of all concerts, family shows, and special events, as well as facilitating the AHL hockey schedules.
"I'm thrilled to join the inaugural OVG team for the Coachella Valley Arena under the guidance of SVP, GM John Bolton, working together to elevate the artist and fan experience for the Coachella Valley," said JoAnn. "This already top destination will have an amazing new home for our touring artists around the world, as well as home to the AHL team of the Seattle Kraken, among the other diverse programming planned."
JoAnn makes the move to OVG from the Honda Center in Anaheim, California after 28 years. During her tenure in Anaheim, she oversaw all programming for the arena bringing some of the biggest artists to the fans of Orange County as well as scheduling for the NHL home team Anaheim Ducks. Previously, JoAnn served as part of the management team at the Pacific Amphitheatre in Costa Mesa, CA, and Laff Stop Comedy Nite Club in Santa Ana, California.
Joyce joins OVG as vice president of marketing for Coachella Valley Arena from AEG Worldwide where she will oversee the planning and implementation of the arena marketing strategy including brand, ticket sales, media buying, partnership marketing, social and digital media. Additionally, she will act as a liaison and work in collaboration with OVG Los Angeles and other arena stakeholders to ensure brand alignment. A music industry veteran with more than two decades of leadership experience in harnessing and leveraging data to build long-lasting relationships with customers, Joyce is a digital native and social media strategist with extensive experience in marketing, on both the promoter side and the venue side.
"The opportunity to build an Arena in a pristine market, and with Oak View Group, so rarely happens, I knew it would align with my sustainability mindset," said Joyce. "Coupled with the chance to work with John Bolton and with my dream to build the entire martech stack and marketing strategies from the ground up for an Arena, I knew it was the next challenge I wanted to take in my music career."
Joyce started her career in PACE (Live Nation Entertainment) amphitheaters and quickly worked her way to national tour marketing at AEG Live, leading the marketing campaigns for award-winning artists including Bon Jovi, Justin Bieber, The Rolling Stones, Prince, Usher, Enrique Iglesias, Carrie Underwood, and dozens more before building the digital marketing team. A two-time Billboard Digital Power Player, Joyce most recently led AEG's social media listening and strategy, consumer data governance programs.
With more than 20 years of entertainment and hospitality industry experience, Ruth joins OVG as vice president of finance. She will be responsible for establishing the financial infrastructure and compliance, develop budgets and monthly forecasts, assist with projecting event deals and P&L while overseeing the daily operations of all accounting and finance functions.
Ruth commented: "I'm thrilled for the opportunity to work for a company as successful as Oak View Group and specifically under the proven leadership of John Bolton. The Coachella Valley Arena is going to be a game-changer for quality entertainment and a positive impact for the surrounding Palm Springs area."
Prior to joining OVG, Hill worked for NBA teams such as the Utah Jazz, Sacramento Kings, and San Antonio Spurs; the NHL's Nashville Predators and Dallas Stars; and most recently the full-service marketing agency Mod Op. She also taught accounting at the University of San Francisco Masters Sports Program. She received a bachelor's degree in accounting followed by an MBA from the University of Utah.
The three appointments come on the heels of OVG's announcement earlier this month of Steve Fraser being named president of Coachella Valley Arena and it's to be named AHL expansion team. Additional new hires include Frank Torres, formerly of the San Antonio Spurs, as director of sales and services; Samantha "Sam" Wright, formerly of Audacy (previously Entercom Communications) as Intergraded Account Manager; and Annika Heine as sales/preview center coordinator.
Located on 43.35 acres of land at I-10 and Cook Street, in Riverside County on land owned by the H.N. and Frances C. Berger Foundation, the arena will be more than 300,000 square feet and feature 11,000-plus seats, and include modern suites and premium hospitality clubs. It will be the home of the Seattle Kraken's American Hockey League (AHL) team and will include an adjoining facility that will serve as a year-round community gathering space and the training center for the AHL team. The arena is projected to open in the last quarter of 2022.