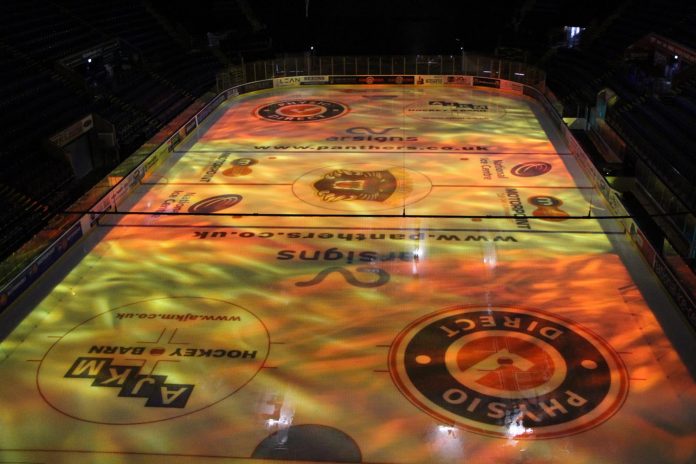 Nottingham's Olympic Ice Centre is one of the UK's largest ice rinks. Home to the Nottingham Panthers Ice Hockey team and the GB Short Track Speed Skating Squad, the arena plays an important role on both the local and national stage. In 2015, OneBigStar completed a lighting overhaul in the facility's main arena using CHAUVET Professional Rogue R2 Spots and COLORdash Par-Hex 12 units. Recently, OneBigStar was brought back to lend more sparkle to the venue's lighting rig by adding eight Maverick MK2 Spot fixtures also from CHAUVET Professional.
With ever increasing numbers attending Nottingham Panthers games, the venue desired a selection of powerful and intensive spots to add to the already inspiring colour palette of the Rogue and COLORdash fixtures. The solution was to position eight Maverick MK2 Spots from trussing suspended above the rink itself, thus complementing the existing and well-utilised CHAUVET Professional setup.
OneBigStar's Operations Director Steve Yeardsley said, "Our long-term relationship with Chauvet is based on sharing the same values when it comes to production quality and value-for-money. We suggested the Maverick MK2 Spots because they've performed so well in our hire inventory and we knew they would integrate perfectly with the existing lighting in the main arena and have enough power to cut through the high lux levels required for this sport."
The resident ice hockey team Nottingham Panthers was so impressed with the latest lighting additions that they ordered custom gobos to project their logo onto the ice. With their two 6-position rotating slot and lock gobo wheels, a 7-position + white color wheel, variable frost, 3-facet prism and wide zoom range, the Maverick Spot fixtures are able to create a versatile selection of looks to keep the crowd entertained.
Thanks to the Maverick's LED engine, the fixtures also correspond with the venue's green ethos and ensure that running and maintenance costs are kept down to a minimum. As a result, the fixtures provide the perfect addition to the all CHAUVET Professional rig.