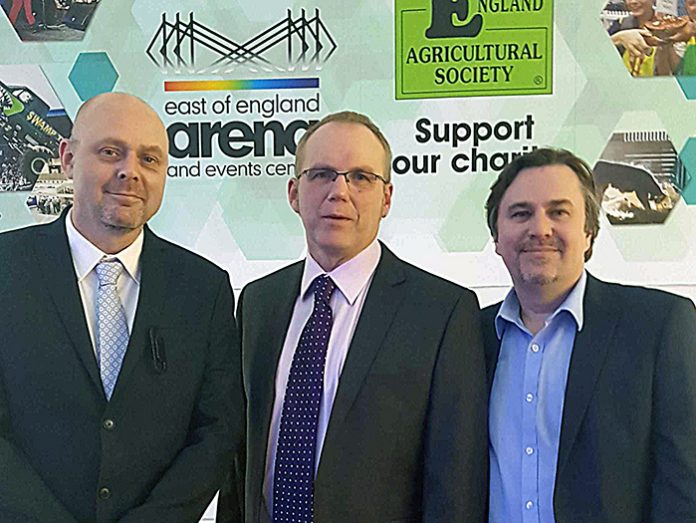 East of England Arena Events Centre (EEAEC) has recently confirmed a strengthened collaboration with Pearce Hire for their busy arena and events centre.
The EEAEC is one of the UK's top event venues, hosting well over 300 events, conferences and meetings a year. This multi-purpose events complex serves the East of England and boasts over 9,000 square metres of indoor space and over 250 acres of outside space. With significant and ongoing investment in the venue and its infrastructure, the venue has appointed Pearce Hire as a preferred contractor working throughout the complex.
This is a new step for Pearce Hire – who have never had the status of 'preferred contractor' at a major exhibition and event venue before, but they are relishing the opportunity.
"With our HQ based in Peterborough we are ideally placed geographically to offer an outstanding level of service and support to the venue, to the organisers putting on events at the venue, and to the exhibitors at all the major trade and consumer exhibitions which take place here throughout the year," observed Shaun Pearce, Managing Director, Pearce Hire.
"Having provided services for many years to the EEAEC, we are familiar with the venue, and understand the requirements of many of their regular event organisers coming through the doors year on year. We are delighted to have now stepped onto a more significant footing and to be linked more closely with the venue. This means there is an excellent opportunity to expand our service offer and to enhance our pre-existing commitments to supply even more exceptional production services to new and existing customers. It is going to be an exciting and busy year."
Jason Lunn, Venue Director for EEAEC expanded. "Pearce Hire and EEAEC share the same goal to provide the best services possible to our customers. We consider Pearce Hire's overall production services to be a faultless and wide-ranging offer. We note with pride that the touring productions which come into our venue always rate them very highly."
Pearce Hire will work alongside other preferred contractors at EEAEC, including Hawk Audio Visual with whom they already have a close and collaborative working relationship. This new appointment will serve to strengthen their existing relationship which will benefit the venue and the event organisers who put on events at the EEAEC.
Pearce Hire have confirmed they are looking to increase their project management team with a Project Manager with a specific remit to serve the EEAEC contract. Shaun explained that "it makes sense to have a dedicated project manager focussed on the EEAEC relationship. Being an official contractor for the venue brings our services to the fore. It means we are well placed to offer the best resources and services to the exhibitions, events, conferences, awards dinners and outdoor events which take place at the EEAEC. We are looking forward to working alongside the event management team at EEAEC to provide even better services in the future."
Jason concluded that "with Pearce Hire's long standing knowledge of the venue, the venue systems and what is achievable at the venue they are well placed to guide our customers. We trust them implicitly – and that is important in this industry."