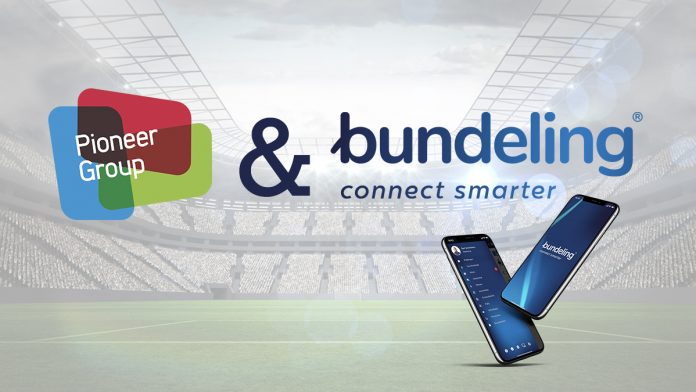 Pioneer Group, world leaders in stadia LED and lighting solutions, has forged a new and exciting collaboration with Bundeling to improve fan engagement and provide a seamless opportunity for sports clubs and sporting arenas to enhance collaboration with fans, partners, local communities and staff.
Head of Growth at Pioneer Group, Gerry Fredericks, stated: "More and more of our customers want to create a total immersive stadium experience. In addition, clubs want to reach more of their fans, sponsors and local communities faster with accurate and timely information – in this digital world; it just makes sense for us at Pioneer Group to work with Bundeling to provide this enhanced level of interaction – reducing wastage through paperless ticket ordering and eliminate multiple separate communications platforms – it must be synchronised. We're excited to be partnering with Bundeling – they have already completed some incredible projects into Sports Stadia across the globe, and we're delighted to be including this as part of our innovation agenda".
The match day experience is changing due to the fan demographic. Fan engagement is critical and has become an essential part of delivering an experience that creates memories. As a result, leading sports venues are seeking new digital ways to improve interaction and collaboration with everyone that touches the club.
The match day experience and journey starts with engagement at home, from purchasing a ticket, travelling to the stadium, being in the ground through to after the game. Digital is key to delivering this seamless experience.
Bundeling is a Dutch tech company that develops intelligent communication platforms for more than 600 sports clubs, companies, associations, governments, and communities in 15 countries. It allows organisations to digitally connect, interact, and inform multiple groups of stakeholders to ensure satisfaction on every level. Sports clubs use Bundeling to connect and build their business network and companies to optimise all communication flows and processes.
International Business Developer, Gard Valckx, commented: "We are delighted to announce that we have started working with such a forward-thinking company as Pioneer Group. They already have an impressive portfolio of customisable solutions, customers, projects, top-class employees, and ambitious growth plans. Through this new strategic partnership, we are confident that the value and performance of our two companies will be greater when working closely together. We already kicked our partnership off with the first project, and we hope for many more to come!"