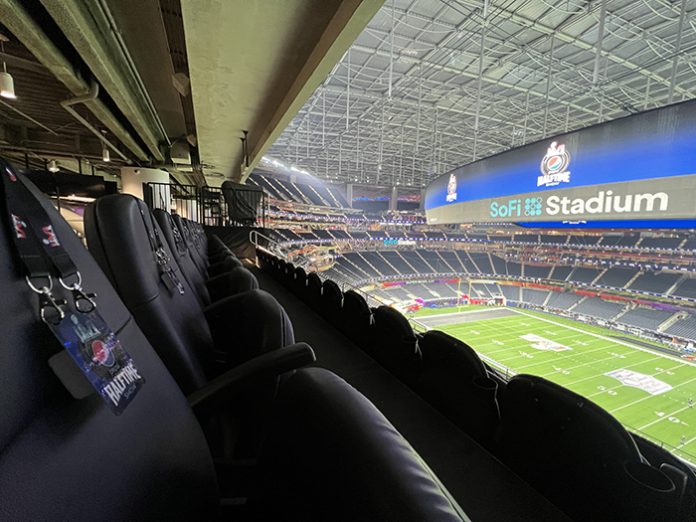 Although no NFL franchise has ever been victorious three Super Bowls in a row, team PixMob scored its third consecutive Super Bowl win at the Super Bowl LVI Halftime Show, featuring performances by hip-hop icons Dr. Dre, Snoop Dogg, Eminem, Mary J. Blige and Kendrick Lamar at SoFi Stadium in Los Angeles, California. The Montreal-based PixMob — immersive experience experts specialising in wearable technology, wireless lighting and crowd activation — dazzled fans in the stands and TV viewers alike with a truly epic halftime spectacle, one that had to overcome a significant production hurdle.
PixMob's Super Bowl Halftime Show experience this year was their third straight, and fourth overall, at North America's biggest annual sporting event. It follows unforgettable success at last year's halftime show featuring The Weeknd, and at the Jennifer Lopez and Shakira performances the year before, both shows together totalling over 200 million viewers.
New Tech Tackles Unique Game-Day Challenge
The Los Angeles Rams and Cincinnati Bengals weren't the only ones aiming to light up the field during the afternoon game. PixMob were challenged to develop immersive illumination technology that would not just function but enthral in the daylight-filled stadium — in other words, the brightest tech yet. Enter NOVA, a new family of high-brightness PixMob products.
PixMob provided 70,000 never-before-seen, NOVA-powered LED laminates to all live audience members as well as the halftime show field cast (dancers, extras, etc.). The laminates, designed in Montreal, are brighter than any device the company has ever made previously. Each laminate has 10 times the brightness of the popular LED event wristbands PixMob is renowned for, and is the same technology now used in the permanent installation built into the seats of the SAP Center, home of the San Jose Sharks. The result was sensational, with PixMob again demonstrating their signature ability to reinvent themselves to transform audiences into a vibrant, pulsating and entrancing canvas of light.
"When we saw the stadium with its clear roof for the first time, we thought this might be tough. With our engineers, we got to work and did some electronic alchemy to take an existing circuit and super charge it. As we like to say, we must innovate or disappear," said Vincent Leclerc, CEO, PixMob.