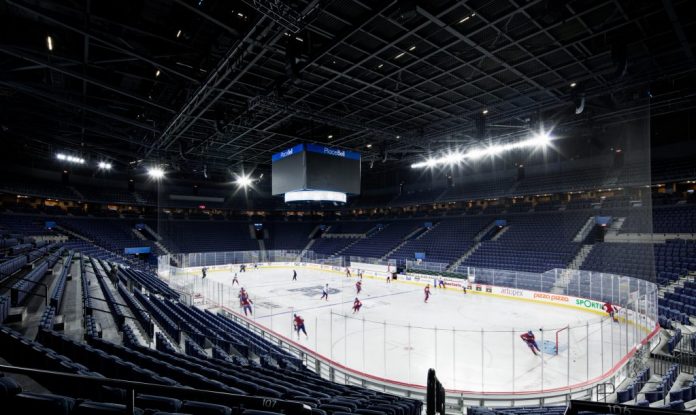 Place Bell, which is set to become one of Quebec's most in-demand sports and entertainment destinations, is now officially open in Laval.
Place Bell features a 10,000-seat arena with NHL-compliant ice rink that can easily transform into a performance amphitheatre. The arena is the new home of the Laval Rocket – an American Hockey League (AHL) team affiliated with the Montreal Canadiens.
The venue also boasts a 2,500-seat Olympic speed and figure-skating arena, and a regular, 500-seat skating rink, both of which are accessible to the public and sports organisations.
Designed by leading architects Lemay and CannonDesign as part of a design-build project driven by Quebec construction leader Pomerleau, the new community resource benefited from an integrated design approach and the extensive use of technologies like BIM (Building Information Modeling) and VDC (Visual Design and Construction).
The opening ceremony was held in the presence of Mayor Demers, who was joined by Marcel Alexander, Chairman of the Board of Directors of La Cité de la culture et du sport de Laval; Geoff Molson, President and CEO of the Montreal Canadiens Hockey Club; Pierre Rodrigue, Vice-President, Industry Relations at Bell, as well as Francine Charbonneau, Minister responsible for Seniors and Anti-Bullying and Minister responsible for the Laval region, in order to proceed with the official inauguration of Place Bell.
"With Place Bell, Laval is installing a major landmark in the heart of its downtown area. Place Bell has been built in accordance with all rules and regulations and is a major driving force for economic development in the area. Moreover, it meets the needs expressed by the sports associations, which had long been waiting for such high-class facilities," said Laval Mayor Marc Demers.