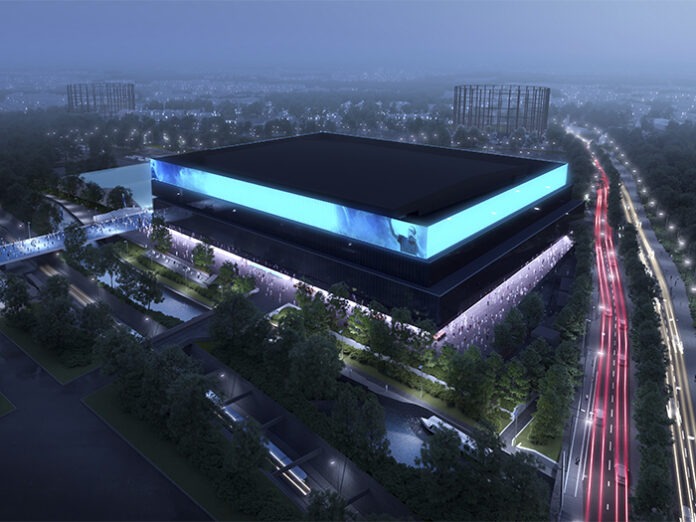 Oak View Group's plans to develop a state-of-the-art arena in East Manchester have been given the green light by Manchester City Council. The arena, which will have a maximum capacity of 23,500, making it the UK's largest, will bring £350million of private investment to the city.
Following final confirmation from national planning authorities, OVG plans to begin work as early as November, bringing 3,350 jobs during a three-year construction phase. The arena will create a further 1,000 jobs when the arena opens, which is projected to happen in 2023.
OVG has committed to pay all employees at least the Manchester Living Wage and will prioritise hiring local people. Manchester has historically been a world-leader for entertainment, with an iconic reputation for music, sport and culture, but in recent years it has missed out on some of the world's greatest events and is losing market share to other UK cities as they surged ahead with ambitious plans for new arenas.
OVG has demonstrated that demand is there in the regional catchment to put Manchester back at the forefront of live entertainment. As part of the planning application, OVG commissioned independent research that indicated the arena will drive up to £1.5bn extra activity in the city's economy.
Further research showed that Manchester's live entertainment market has the potential for an extra 2.05million visitors by 2035. 2 Manchester city centre is predicted to receive £95m of the total audience spend of £165m by visitors to the two arenas. Restaurants and bars in the city centre will experience an uplift of £25m from the operation of two arenas, with retail outlets capturing a £28m increase. Hotels and overnight accommodation in the city centre will benefit from £35m extra spending. All of this represents a doubling of the expenditure by arena audiences for city centre businesses.
Proposals for the new venue at a site on the Etihad Campus were submitted in March following in-depth consultation with the local community. The final plans were shaped by community feedback and since then the project has received support from a wide cross-section of local stakeholders including local companies, MPs, ward councillors and a range of city centre businesses.
Tim Leiweke, OVG's co-founder and Chief Executive, said: "We're delighted that Manchester City Council has given our proposals the go-ahead, and we can't wait to get started, bringing a £350million private investment, creating thousands of jobs, and delivering one of the world's best arenas to this amazing city".
"I want to say a huge thank you to the community for taking the time to listen to what we had to say and providing feedback that ensured this arena is of Manchester, for Manchester and by Manchester."
Councillor Pat Karney, City Centre Spokesperson, said: "Today's decision is about confidence in our city, Greater Manchester and the North West. It is about new employment and training opportunities for thousands across East Manchester and beyond at a time when they are badly needed. The city centre, our communities and the wider city will be strengthened by our newest neighbour – Oak View Group Manchester. This is the next chapter in East Manchester's regeneration."
The new arena will be a best-in-class sustainable venue, with renewable energy, energy efficiency, and low carbon technologies integral to the design. During operation, the venue will benefit from the excellent existing transport links to the Etihad Campus. OVG has committed to investing in improving walking and cycling routes, as well as funding an expanded Controlled Parking Zone to minimise disruption for local residents. Construction of the venue is anticipated to begin in November, with events projected to commence in 2023.