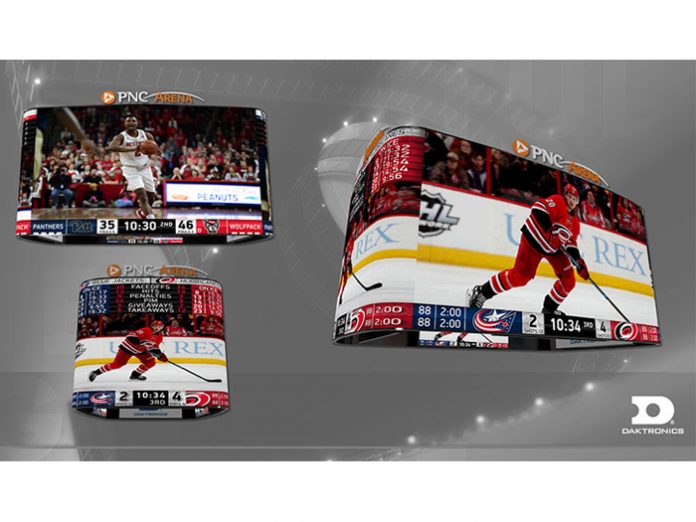 Daktronics and The Centennial Authority, owner of PNC Arena, are partnering to install a 4,000-square-foot centerhung LED display system by the start of the 2019-20 hockey season to enhance the fan experience at Carolina Hurricanes hockey games, NC State University men's basketball games and other special events held at the facility. The centerhung is nearly three times larger than the existing system and adds to the already-installed 5,250 square feet of digital displays at the arena.
"We are committed to maintaining PNC Arena as a first-class facility and providing enhancements that create the best possible fan experience for all events," said The Centennial Authority Chairman Thomas McCormick. "We are excited to unveil the new centerhung scoreboard at the opening of the 2019-2020 Carolina Hurricanes and NC State men's basketball seasons."
The centerhung is curved around the corners to provide a large, single canvas presentation that is HDR ready and capable. This single canvas presentation will measure approximately 25 feet high by 148 feet wide and will feature 5.9-millimetre line spacing to bring high-resolution imagery to fans throughout the arena. Each side of the centerhung provides a 25-foot-high by 47-foot-wide viewing experience while each end measures 25 feet high by 27 feet wide.
"This new video system will bring a larger-than-life experience to fans and event attendees at PNC Arena," said Daktronics President and CEO Reece Kurtenbach. "We're excited to work with PNC Arena, the Carolina Hurricanes and NC State to bring this improved visual centerpiece to their events. As the fan experience at live events continues to be paramount, our team remains dedicated to providing the best possible solutions for our customers to help them exceed their entertainment goals."
Two displays will be mounted to the underbelly of the centerhung to appeal to fans, players and coaches sitting courtside. Each display will measure approximately 10 feet high by 20 feet wide and will feature 3.9-millimetre line spacing to provide optimized resolution for those viewers.
The main display features variable content zoning allowing it to show one large image or multiple zoned images. Live video, instant replay, statistics and game information, graphics and animations, and sponsorship messages can all be shown simultaneously or take over the entire display in coordination with specific moments during the event.
These displays join approximately 5,250 square feet of Daktronics LED displays currently installed at PNC Arena including two 360-degree ribbon displays, five more ribbon displays, 10 scorer's tables and an exterior marquee.