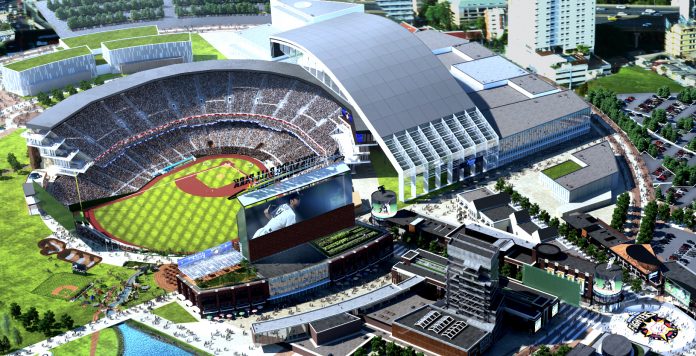 Populous have announced the official opening of a new office in Tokyo and expanded global presence. The office expands Populous' global footprint to 15 offices worldwide and its 6th in the Asia-Pacific region. Populous' reach as one the world's largest architecture practices is more than 500 employees around the globe.
"Japan offers a wealth of opportunity – strong culture, burgeoning sports scene, global tourist destination," said Jeff Keas, Populous Senior Principal. "The world's stage will shine its light here soon and we welcome an opportunity to share with Japanese community our design and event overlay expertise."
Populous has been working with the Tokyo Olympic and Paralympic Organizing Committee since 2015 to advise them on the planning and design for all competition venues and several major non-competition venues. In providing overlay consultancy for the 2020 Olympic Games, Populous' role is to ensure each venue and its surrounding context will comply with criteria mandated by the International Olympic Committee and International Federations.
Additionally, Populous has been working with the Hokkaido Nippon-Ham Fighters in their quest for a new ballpark. Renderings for that plan were recently released to the public and look to become the number one ballpark in Asia that maximises player performance on the field and international competitiveness within a mixed-use entertainment district.
"Our work to date has been focused on how to create a venue master plan that fits within the highly complex urban context of Tokyo as it relates to a multi-layered system of transportation, security, open space, credentialed access, services and the overall experience for all spectators and fans," said Mako Ihara, Project Manager for Populous Japan. "This global expertise Populous brings to large-scale events and venues will make the 2020 Games a spectacular event."
In addition to its expertise in planning and executing large scale events, Populous specialises in designing architecture, urban planning, landscape architecture, interior design and brand activation for mixed-use development, sports venues, convention centres and aviation.
The Populous Japan office is located in Tokyo's Shinjuku Nomura Building.