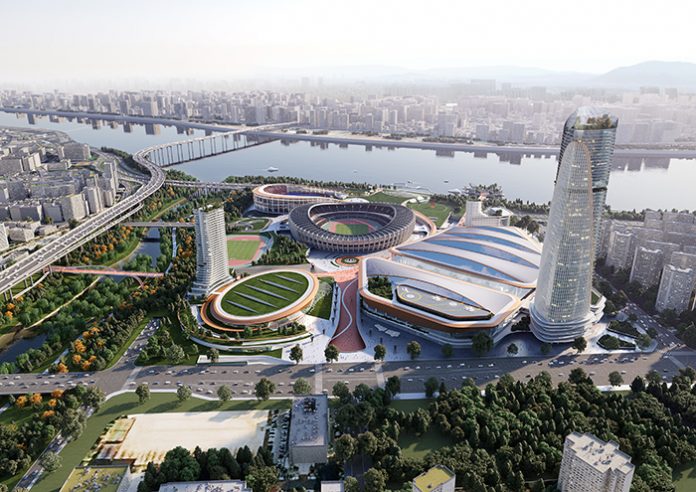 A stunning new global destination of sports, culture and events has been unveiled in Seoul, South Korea.
Designed by global architecture firm, Populous the Jamsil Sports MICE Complex is set to become a world-leading destination and strengthen South Korea's place in Asia's highly competitive sports, conferences and events market.
It is Populous' most significant post-Olympic legacy work worldwide and will be directed from their Asia Pacific headquarters in Queensland.
The project will be located on the former 35-hectare site of the Seoul 1988 Olympics and re-imagined into a $AU2.4 billon new urban master planned venue by the winning Hanwha E&C consortium, selected by the Seoul Metropolitan Government, with Populous as the architect for the master plan and concept design.
Managing Director for Populous (Asia Pacific) Paul Henry said Populous' master plan focused on innovative urban design and planning which respects both the heritage of the 1988 Olympic Stadium and the ongoing local community use.
"Jamsil Sports MICE Complex will become a unique landmark tying together state of the art sporting facilities with world leading provisions for meetings, incentives, conventions and exhibitions, along with cultural experiences celebrating the legacy of the Olympic history of the site.
"The unifying power and the dynamics of the Olympics will bring together the concepts of sport, education and culture to express a notion of accessibility and connection for all," Henry said.
Forward thinking initiatives around the development of Smart Cities were incorporated into the design with innovative solutions for future mobility such as Urban Airborne Mobility (UAM) drone flying provisions.
Engrained into the development are sustainable design solutions introduced through energy efficiency systems such as; high performing green rooftops; biotope installations of living plants and animals; a solar screening device; restoration and preservation of the former site; and utilisation of existing facilities.
"The design for Jamsil Sports MICE Complex will be carried out from our Brisbane headquarters in Australia and will provide ongoing opportunities for Queensland design talent on the world stage, as well as provide further jobs for additional highly skilled architects in the office," Henry said.
Originally built for the 1988 Summer Olympics, the master planned precinct along the Han River will be reimagined to include:
• Convention and exhibition centre with over 100,000 gross sqm of exhibition halls, plus pre-function spaces, meeting rooms, a concert hall, as well as commercial offerings and ballrooms (total 278,000 gross sqm of MICE facilities)
• 11,000 seat sports complex – a flexible arena for local sport, e-sports, live performances and other events
• 35,000 seat open air baseball park which will be the home for two local teams
• 5-star hotel of over 300 rooms
• 4-star business hotel of 300 rooms within a 178,000 sqm commercial office tower
• 123,000 gross sqm of cultural and commercial retail
• A 3,000-seat indoor underground swimming pool capable of hosting swimming competitions
• 300 room serviced residence and hotel tower
Construction is expected to begin in the second half of 2023.
Jamsil Sports MICE Complex will be the third project for Populous in South Korea, alongside Changwon NC Park (NC Dinos baseball park) which opened in March 2019 and Incheon Asiad Main Stadium, which hosted the opening and closing ceremony of the 17th Asian Games in 2014.