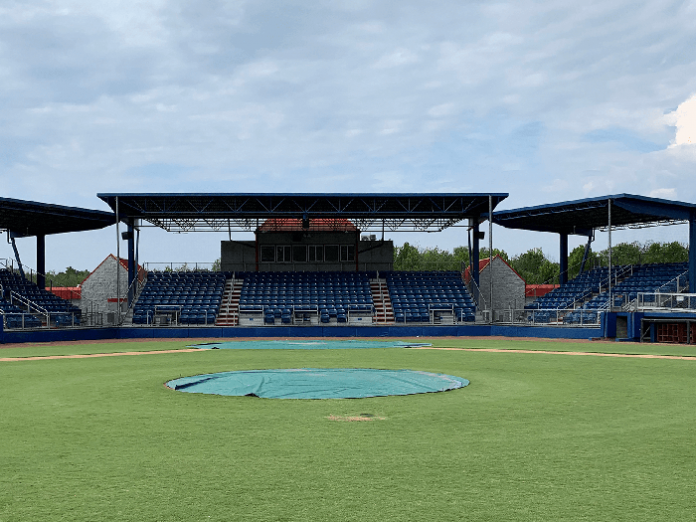 During the 2019 minor league baseball season, the Danville Braves fans and players enjoyed its new sound system, designed and installed by Piedmont Multimedia of Hillsborough, North Carolina, and featuring three PreSonus WorxAudio S-X2 Stadium-series loudspeakers.
"The Danville Braves contacted us back in March because with their old sound system, they had very uneven coverage in the seating areas and couldn't hear anything whatsoever on the field of play," related Piedmont Multimedia Director of Operations Paul Boone. "They had 12 older small weatherproof loudspeakers scattered through the seating areas, aimed at different locations along the grandstand and around the apron section of the bleachers. The more speakers you have, the harder it is to control them and not have a muddled, uneven sound. Time alignment is difficult, especially in a large outdoor space like that. They needed a solution that would do a better job with fewer loudspeakers."
With years of experience designing and installing systems for outdoor venues, including high-school football stadiums, Paul knew that PreSonus WorxAudio's weatherized S-X2 all-in-one weatherized compact line arrays would provide a superior solution for the 2,588-seat stadium. "I've been associated with PreSonus and WorxAudio from way back," he noted. "I used to sell WorxAudio loudspeakers as a contractor, and we installed one of the first weatherized packages that WorxAudio built."
To show stadium management what the arrays could do, Boone brought in a regular (non-weatherized) PreSonus WorxAudio X2 and set it up temporarily above the press box, in the center of the main grandstand. "We played music and talked on a wireless microphone through the X2," he recalled. "The coverage is very wide, with 160° of horizontal dispersion, and even with just one box, the groundskeepers working on the field could hear everything clearly. The stadium management loved the WorxAudio loudspeakers. Compared to their old sound system, even one X2 was a night-and-day experience."
Working with PreSonus' Commercial Division team, Boone devised a design for the stadium system. "We decided to deploy three weatherized S-X2s, putting one in the main grandstand, one firing across the first base line, and one firing across the third base line," he detailed. "It looked really good in the EASE report, and it worked out great in practice. The stadium people were so impressed with the demo and design that they signed the agreement in two or three days."
To drive three full-range S-X2s, Boone chose six PreSonus WorxAudio PDA1000-R power amplifiers, two for each S-X2. "The PDA1000-R is a great amplifier," Paul asserted. "It's a really efficient Class D amplifier that puts out good power but doesn't take a lot of energy or produce a lot of heat. It's not real heavy or cumbersome, either." The Piedmont team distributed analog audio from the amps to the loudspeakers. "Each S-X2 uses multicore cable for the high and low frequency elements, so we used an eight-conductor cable to each box," Paul specified.
To keep things simple for the PA announcer, who is not a sound technician, the Piedmont Multimedia team provided a small analog mixer with four mic inputs and several line inputs, a wireless mic, and two handheld Shure mics with switches so the announcer could quickly and easily turn them on and off.
With the Braves' Fan Fest looming, the Piedmont Multimedia team worked quickly. Installing the new system proved to be the easy part. "It took us longer to pull down the 12 older loudspeakers than to hang the new S-X2s and pull the wire," revealed Paul. "We only spent three days on site, total, and we finished on Fan Fest day. We were leaving as the fans were lining up to come in; that's how tight the project was. It was perfect timing all the way."
Best of all was the system's performance. "Three WorxAudio S-X2s tremendously outperformed 12 older boxes," affirmed Paul. "The SPL on the field was beautiful. The comment from the customer was that the sound was very clear and distinct."
The S-X2's throw was impressive too. The centerfield fence is 400 feet from home plate, and way out past centerfield is a hill with trees that elevates rapidly. "You could hear the sound reflecting back from that hill as clean as it was coming out of the loudspeaker," Paul recalled. "The reflection didn't muddle the sound or affect intelligibility because the delay was so long, and you could clearly understand what was said."
The Danville Braves' stadium not only got a high-quality system concluded Paul: "it was very simple, inexpensive, and a great package. The customer spent a whole lot more on their old 12-box system that we replaced than they did on the new system with 3 WorxAudio S-X2s and got far better sound quality and coverage. They're very impressed."