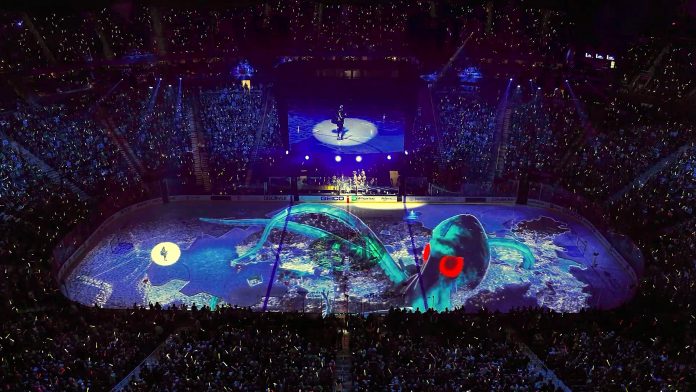 It's not every day the National Hockey League (NHL), welcomes a new franchise to the league, so when the Vegas Golden Knights hosted the Seattle Kraken at the T-Mobile Arena, The VGK Entertainment, Experience and Production Team wanted to ensure it was a larger-than-life experience. As leaders in sports projection technology, the Quince Imaging team was onsite for this momentous occasion.
Andrew Abrams, Sr. Executive Producer, Production & Venue Technology, led a team of ten people to envision the perfect pre-game opener for the NHL's newest team, the Seattle Kraken. The Vegas Golden Knights were pumped to team up against their first opponent on the 2021 schedule. As newest and second newest team in the NHL, the anticipation of the live event was a key component in strategy by the VGK EEP group. Not only did this event make history as the newest rivalry in the NHL, but the opening night match was also each team's first televised ESPN event. The goal was to take the teams to new heights by making an international splash on broadcast television.
"It was a collaborative effort. We knew we wanted to make the squid in the ice the big 'WOW' moment. And after that, it was all about execution. We had an ambitious timeline, so we recognised we were going to need some help. We knew of Quince Imaging from their past work in the sports world, so we contacted them and gave them the details. We were thrilled to find out they had no issues with the timeline and were able to turn this animation in just under three weeks. Quince made it really easy to take our ideas and timing and bring them to life. It's one of the coolest projects our team has ever gotten to be part of. We would definitely partner with Quince Imaging again!" stated Abrams.
The return to live events is the heart and soul of Quince Imaging's nearly 25-year tenure in the event industry, and the level of innovation exhibited by the Vegas Golden Knights' hosting of the Seattle Kraken has brought new life to an industry that has been revived over the past year.
"I was really impressed with the level of involvement the team at the Vegas Golden Knights had with giving creative direction. Their insight and inspiration made turnaround significantly easier. I sculpted a 3D model of the Kraken using cinema 4D in collaboration with my team, to produce animation capable of displaying a fast-paced visual that created an entire show. The Vegas Golden Knights didn't simply choose to play a video, they also integrated live elements, including choreography and sound cues for an exceptional effect," Zubair Parkar, Art Director, Quince Imaging.
Eric Gazzillo, Director of Innovation at Quince Imaging, was enthusiastic about the prospect of direct partnership with a client that has shared brief history with the firm. "We've collaborated with many professional sporting leagues, but in 2021 we've been able to step out from the 'collaborator' role and move into an 'innovator' role. We have the talent on our team to create the full live event experience. Our team boasts a crew of talented artists, producers, animators, and experienced event experts. Our team has what it takes to deliver an extraordinary live event, without having to outsource to side vendors. We are a one-stop shop, and the Vegas Golden Knights opening night speaks to the level of creativity we are able to deliver, in partnership with extraordinary clients."