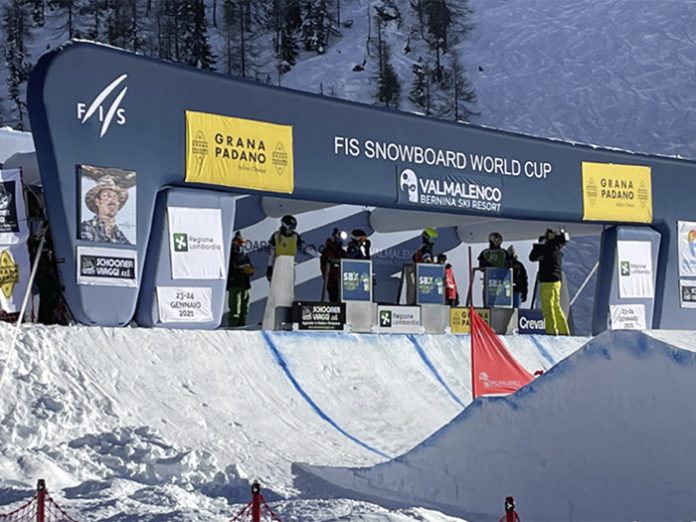 The Snowboard World Championships returned to Valmalenco (Italy) in January 2021, albeit behind closed doors due to the health emergency. Four days of competitions on the snow after a nine years absence of the Alpe Palù competition, down the area's 60 kilometers of ski slopes. Frate Professional took care of setting up the audio and video systems, installing a wireless system consisting of various stacking stations with RCF HDL 26-A line array and HDL 35-AS subs.
The audio system requested by the client body had to guarantee sound reinforcement for the entire competition area, including the start and the finish zones, with a distance of 800 meters as the crow flies between the main diffusion points. Fabio Frate and his team devised a strategic solution: "To avoid laying long cable runs and crossing the parterre with cables, we chose to use Neutrik Xirium Wireless Bridges from the ski lift technical room up to the finish area, where the control room was positioned. An already existing balanced line of the chairlift facilities also allowed a wired connection with the sound diffusion spot of the start area."
The sound system was permanently installed along the snowboard slope for 5 days, including one day of pre-setup. The system ran non-stop for 8 hours a day and was left outdoors (and under the snow) every night throughout the championship period, using only the rain cover accessory to protect the rear connection panel for each unit. Fabio commented: "RCF assured us the system would work with great ease, as all components are waterproof and can work smoothly in sub-zero temperatures, and it did. At night here, temperatures can go right down to -25°C." As well as the sound system, Frate Professional also installed a 3.9mm pixel pitch Outdoor Ledwall for displaying the video contributions synchronised with the audio.
The logistical problems were not confined to the harsh climate; the inaccessibility of the stations also had to be dealt with. "All of the equipment was transported on the snow, using snowmobiles and snowcats, which, thanks to their load capacity, made it possible to integrate our RCF HDL 26-A units with HDL 35-AS subs, i.e. modules from the same RCF series, for better musical performance. The low end delivered by those small subs is impressive and could be felt even at a great distance."
In the audio control room, a Yamaha QL1 digital mixer enabled handling both all of the incoming audio signals from wireless mics and contributions and the mix routing to the TV broadcasters. Fabio continued: "The performance of this small-sized line array is top notch, the audio was clear and intelligible along the entire snowboard slope. Although the audience was small in number, the HDL system still reached everyone even hundreds of meters away. I was positively impressed by the reliability of the system. It always delivered maximum performance, even when turned on first thing in the morning, after a night of freezing temperatures!"