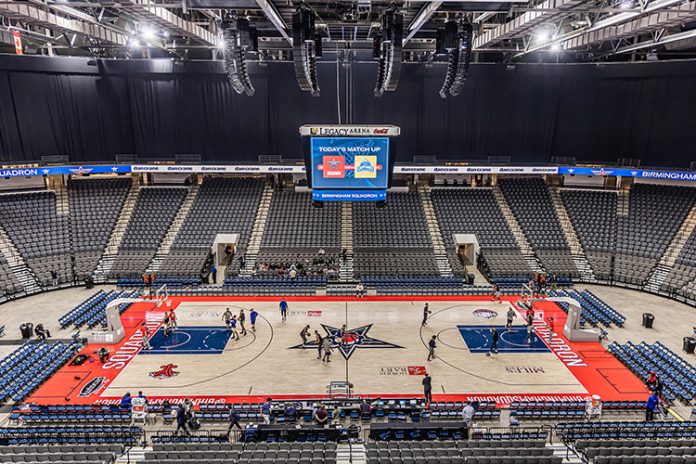 Originally built back in 1976, Legacy Arena may be the most impressive renovation of the $300 million expansion of the Birmingham/Jefferson Convention Complex, which began in 2018. Some of music's biggest names performed at the arena — from Bob Dylan to Garth Brooks, Luciano Pavarotti to Prince, Led Zeppelin to Lynyrd Skynyrd, The Grateful Dead to Taylor Swift, JAY Z to ZZ Top, to name a few. It has hosted major sporting events as well, from basketball to hockey, to tennis matches, and attractions from tractor pulls to the Ringling Bros. and Barnum & Bailey Circus. And now, chosen venue for the Birmingham Squadron, DanceSport and Gymnastics events for the 2022 World Games.
When Populous, the project architects for the BJCC renovation, required audio design services they brought in top consultants Wrightson, Johnson, Haddon, Williams (WJHW) from Carrollton, Texas. Specialising in sound and video for many of the largest stadiums and arenas nationwide, WJHW Senior Consultant, Guillermo Wabi and his team were brought in to address the challenges and requirements for the arena and design a robust audio system for the installation.
"Imagine you have a venue with six unique areas — all having different sizes, elevations, and acoustic signature, while being open to each other, and having to be adaptable to multi-use scenarios." explains Wabi. "To design a sound system for those areas, that sounds clear, intelligible, and balanced to everyone, along with providing performance and flexibility, and to be configurable for multiple scenarios by the venue staff, while also having limitations in maximum weight, size, and budget — it was quite a challenge."
Wabi continues, "The primary sound system needed to be compact and lightweight with the acoustic performance and flexibility to cover not only the seating areas but also meet the various venue configurations for sports and live concerts. The support system [outside the arena] needed to match at the delay and fill positions, the tonal and acoustic qualities of the primary system, while maintaining an aesthetically pleasing formfactor. Since the arena concourse areas were redesigned to an open format, we wanted the back of house system to have a similar tonal quality as the primary and secondary systems. Often when you design a system for a project like this, there must be a minimum of three systems to choose from, especially when using government funds," adds Wabi. "RCF became one of the three systems because of the variety of products and accessories in their portfolio that matched with the project needs and budget."
While the physical and acoustic evaluations were reviewed and analyzed, the contractors hired ESB Group Inc. out of Springville Alabama, who's main bowl sound system package was consisted of the RCF solution. "Arenas are always a very difficult environment to achieve intelligibility," says Drew Breland, design engineer at ESB Group. "We're always impressed with RCF performance, and it's proven itself in this space," adds Breland. The RCF solution is comprised with [112] HDL 28-A full-range line array modules and [24] flyable HDL 36-A subwoofers for the center of the arena, as well as a wide selection of speakers [RCF MR- and C-Series speakers] for 40 zones.
With many acoustical challenges sorted out, a few more practical challenges presented themselves. "When it came time to plan for the install of the arrays, we found we were limited with where we can put our motors to adjust the proper angle," noted Breland. "We worked with outside fabricators to design custom brackets for this particular system. A "spine" system allowed each array to hang firmly in place from a horizontal top bar, while also allowing for each box to be in their corresponding angle. We could rotate the array vertically, as well as offset the position horizontally with pinpoint accuracy. Installation time for the first array took about an hour and half to figure out our center of gravity. From there the other 7 arrays took about 5 hours in total. All arrays were up within 8 hours."
An integrated support system covered areas throughout the arena, under balcony, luxury suites, and corridors. "We installed various C-Series speakers, filling in all areas under balconies, supplemental to the main system. We also installed 25 MR-Series boxes for the back of house areas to provide additional coverage for the 12 suites. The arrays cover much of those areas, but it was important that every seat, in the back of the suites, had an equal listening experience," add Breland.
Control of all zones was key to its success. "RDNET was deployed with this system to control the primary bowl system. "We spent a few days tuning with Oscar Mora [Senior System Engineer] from RCF. We tuned the arrays with RDNet and used Q-SYS for all the auxiliary zones. All things considered we felt the installation was very successful in space," concluded Breland.
"We are more than satisfied with the deployment of this HDL system," noted Jim Reed, System Designer at RCF USA. "The aesthetic blends into the structure and we're happy to have surpassed all performance expectations."